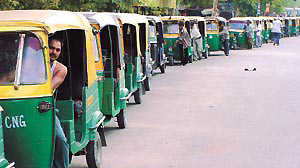 New Delhi, June 6
In a significant move, the Arvind Kejriwal government's anti-corruption branch (ACB) will "reinvestigate" the alleged 2002 CNG fitness scam of Rs 100 crore in which three top officials of Sheila Dikshit government were under scanner.
"The ACB is reopening the 2002 CNG Fitness Scam in which top three babus, who had worked under Sheila Dikshit government, are under scanner. ACB will scan all documents pertaining to this case," a top government official said.
The CNG fitness scam surfaced in 2006 when the ACB said that two companies, one of from the US, did not have any links with each other and that an Indian-based company was formed in 2006 with "dishonest intentions".
After a preliminary inquiry, the ACB registered a case on December 17, 2012. According to the FIR, the government lost crores by awarding the contract of operation and maintenance of I&C lanes (Inspection and Certification) at Burari.
"During the AAP's previous 49-day stint, Arvind Kejriwal had said that all documents would be provided to CBI after the probe agency sought some documents pertaining to the scam.
"But, the case probe got stuck as Kejriwal government resigned. In its primarily report, CBI found roles of some senior government officials in scam and asked the Delhi ACB to probe this matter" they said, adding that as elected government is now in place in the capital, ACB would probe the matter thoroughly.
The sources claimed that the probe was stalled due to inability to get permission to question the officials.
The Aam Aadmi Party had, in December last year, raked up the issue of the CNG fitness scam of 2002 and attacked the "continuing silence" of the central government and Delhi Lt Governor Najeeb Jung on the alleged indictment of top bureaucrats in the city government by CBI. — PTI