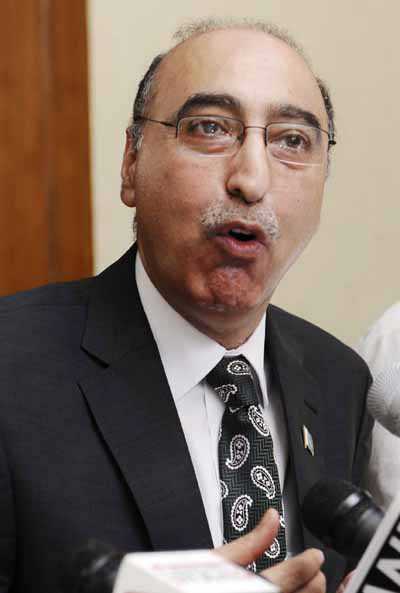 New Delhi, December 8
Striking a conciliatory note amid rising tension in ties, Pakistan on Thursday said it does not want to live in "perpetual hostility" with India, noting time has come for the two neighbours to decide whether status quo should continue or a new beginning be made.
Calling for an "uninterrupted and uninterruptable" bilateral engagement, Pakistan High Commissioner Abdul Basit said the two countries must overcome the differences in order to embark on an "irreversible trajectory" of cooperative relationship.
Maintaining that Pakistan was ready for comprehensive talks with India, Basit, however, said the desire for engagement was missing from the Indian side, adding his government has patience and was ready to wait for resumption of dialogue.
"I think we have wasted 70 years of our existence. Time has now come to make up our mind on what do we want. Whether we would like to continue with the status quo or we want to make a new beginning in our ties," Basit said.
His comments at a discussion on Indo-Pak relations came amid escalating tension between the two countries over a number of cross-border terror attacks, including at army establishments in Uri and Nagrota, and India's surgical strikes across the LoC in September.
'It takes two to tango'
"Pakistan does not wish to live in perpetual hostility with India. We remain positive and constructive but it takes two to tango. There are serious problems between the two countries. We cannot shy away from them but at the end of the day we can engage in purposeful diplomacy, we can realise results for mutual satisfaction and make a good beginning," he said.
At the same time, he said, for Pakistan Jammu and Kashmir was the core issue between the two countries and finding a solution to it could bridge the trust deficit them.
"We need to move from conflict management to conflict resolution and that obviously cannot happen unless we talk to each other with sincereity and seriousness of purpose," Basit said.
Holding that talks may bring down tension, Basit said Islamabad was "positive and constructive" in its attitude, adding the engagement should be meaningful and address the core issue of Jammu and Kashmir.
"Whenever there is any desire in New Delhi to engage with us, Pakistan would respond positively and constructively provided the engagement is meaningful and does address the core issue of Jammu and Kashmir," he said, pitching for diplomacy to be given a "fair chance" to deliver.
At the same time he said," At present, unfortunately we do not see much desire in New Delhi to engage with us in a comprehensive manner. We are ready to wait, we have patience.
We will wait and see how things unfold in months and years ahead."
The Pakistan envoy said it was essential for the two countries to overcome the differences in order to embark on an "irreversible trajectory of cooperative relationship.
Holding that SAARC summit in Islamabad could not be held due to differences between India and Pakistan, he said good relations and peace between the two sides will benefit the entire region.
"The developments since July in Jammu and Kashmir yet again very clearly show that Jammu and Kashmir is the main issue. Islamabad's feeling is that unless we move towards finding a just and fair solution to this problem, it will continue to be very difficult to bridge the trust deficit between the two countries.
"It is in our mutual interest to have peace and also in the interest of the region. We have seen what happened to SAARC summit. It could not take place primarily because of the differences between the two countries," he said.
In this context, he said Pakistan was ready to move towards projects relating to regional connectivity and integration.
Basit also rejected observations at the deliberations, attended by top diplomats, representatives from Jammu and Kashmir and foreign policy experts, that Pakistan may be "balkanised".
"I think Pakistan has a very, very bright future. It is a very confident country. We are moving ahead. People of Pakistan are very confident. We are destined to become a regional economic hub. We do not have any doubt about our future. Pakistan is not going to be balkanised," he said.
Aiyar slams govt's Pak policy
Speaking at the event, Congress leader Mani Shankar Aiyar slammed government's Pakistan policy, saying engagement with Islamabad is the only way to stop terror.
It should be left to Pakistan to solve its internal problems, he said apparently referring to Prime Minister Narendra Modi's reference to trouble in Balochistan. Aiyar also said no country was isolating Pakistan as claimed by New Delhi.
He questioned the efficacy of the surgical strikes launched by the Indian army in PoK in containing terror.
India must accept the significance of Pakistani army's role in that country, he said, adding Pakistan has also suffered a lot due to terrorism. — PTI