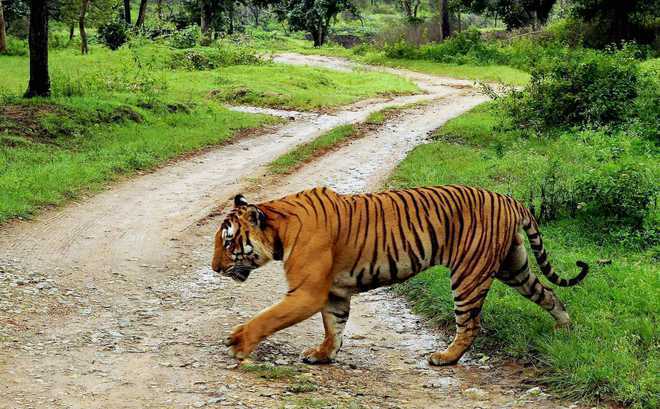 Shiv Kumar
Tribune News Service
Mumbai, April 30
With most parts of Maharashtra reeling under drought wild animals like tigers and leopards are moving out of forest areas and into bordering villages in search of water, according to information available from the state forest department.

"With water sources in the forest drying up wild animals like tigers and leopards are moving towards village wells," Arun Goud, a Range Forest Officer from Chandrapur district said. The area borders the Andhari-Tadoba forest reserve—home to Maharashtra's tigers. Tribals who live in the villages bordering the forest reserve have reported sightings of the big cat to the rangers, according to Goud.

This has led to worsening of man-animal conflicts in these areas. Last week, 45-year old Kavdu Masram, a resident of Jatlapur village in this district, was mauled to death by a tiger that had wandered into the
human settlement. Forest officials feel that the tiger may have come to the village in search of water and may have been disturbed by the victim, who went to answer nature's call early in the morning.

Officials say 12 people have been killed by tigers this year alone in Chandrapur district.

Earlier this month, in Chandrapur's Chimur tehsil, a leopard cub was rescued from a well into which it had fallen. Timely intervention by forest officials ensured that the cub was reunited with its mother.

However, not all big cats are so lucky.

On April 9 two leopard cubs that had wandered into a sugarcane field at Karad in Satara district were burned alive when local people, on sighting the big cats, set the field on fire.

Forest officials said people, particularly young children living, in the periphery of forests are most vulnerable to attacks by wild animals in search of water.

Leopard attacks on children have been reported in Nashik and Junnar districts in recent years.
"Leopards, which hunt dogs and other small animals, usually mistake children for prey and attack them," says Trimbak Binnar, a range forest officer from Nashik.

Big cats prefer to live around water bodies and usually hunt for prey in the vicinity, the official said.

With the summer just beginning, officials expect man-animal conflict to worsen in the coming weeks.
Top News
President hails India's achievements in overcoming Covid-19 ...
Jhunjhunwala, Big Bull of Dalal Street, passed away in Mumba...
If Jhunjhunwala would have had a regret, it was not seeing t...
'Jaishakar said that Europe is buying gas from Russia and we...
Magnitsky petition yet another attempt to bring Indian Gover...