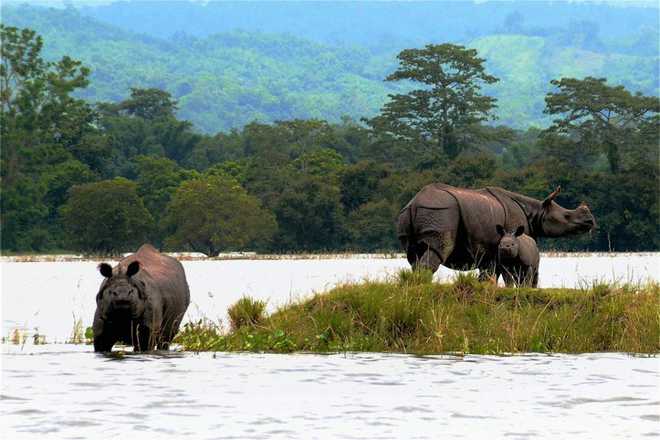 Bijay Sankar Bora
Tribune News Service
Guwahati, July 8
The Kaziranga National Park authorities have deployed three drones to monitor the movement of flood-hit animals and protect them from poachers.
A senior park official said while vigilance had been stepped up by the forest staff, and police teams from Golaghat, Nagaon, Karbi Anglong, Sonitpur and Biswanath districts had deployed drones to monitor the movement of animals driven out of the park by floodwater. Vehicles defying the 40 kmph speed limit on the 45-km arterial national highway stretch along the park are being fined Rs 5,000 keeping in view the safety of animals.
Around 45 per cent of park's core area has been inundated, forcing animals, especially elephants and deer, to flee to higher ground south of the park, an official said. Two flood-hit hog deer have already been run over by speeding vehicles.
The Brahmaputra continued to flow above the danger mark at Jorhat, Tezpur, Goalpara and Dhubri even as vast areas of Assam's 16 districts continue to remain inundated, affecting around four lakhs people and 932 villages.
Crop on 30,000 hectares has been affected by the flood so far, according to data provided by the Assam State Disaster Management Department.