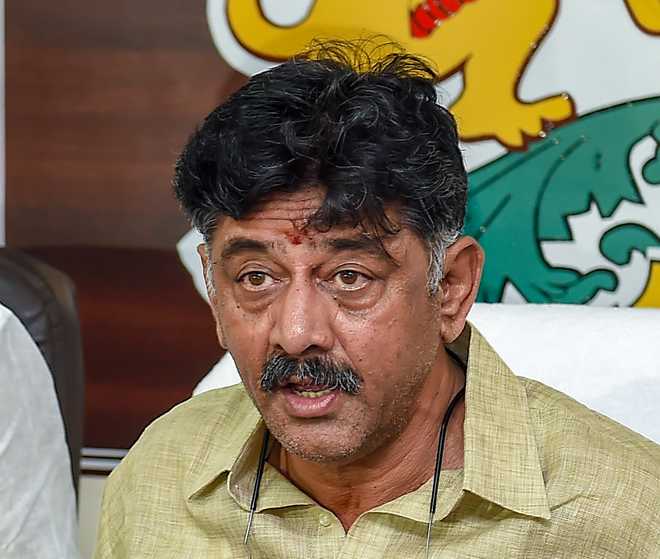 New Delhi/Bengaluru September 3
The Enforcement Directorate arrested Karnataka Congress leader DK Shivakumar on Tuesday in a money laundering case, officials said.
Shivakumar, widely considered Congress party's pointsman in Karnataka, was questioned for the fifth day on Tuesday in connection to the agency's investigations into allegations of money laundering.
The former cabinet minister and sitting MLA from Kanakapura seat was placed under arrest under provisions of the Prevention of Money Laundering Act (PMLA), they said.
Officials in the ED said that they needed the Congress leader for custodial interrogation.
Shivakumar will be produced before a court here on Wednesday by the Enforcement Directorate for seeking his custody.
Soon after his arrest, Shivakumar claimed the cases against him were "politically motivated".
In a series of tweets he posted soon after his arrest, Shivakumar said: "I congratulate my BJP friends for finally being successful in their mission of arresting me. The IT and ED cases against me are politically motivated and I am a victim of BJP's politics of vengeance and vendetta".
"I appeal to my party cadre, supporters and well-wishers to not be disheartened as I have done nothing illegal. I have full faith in God & in our country's Judiciary and am very confident that I will emerge victorious both legally and politically against this vendetta politics," he said in a second tweet.
The Congress meanwhile has been accusing the Bharatiya Janata Party of using investigating agencies to quiet opposition voices.
State Congress President Dinesh Gundu Rao accused the BJP of using investigating agencies to "vindictively targeting" opposition leaders and said the party stood with Shivakumar. Former member of parliament VS Ugrappa called it "witch hunting" and took exception to the leader being summoned on Ganesha Chaturthi day for questioning.
"Vindictively targeting opposition leaders, using agencies to harass and humiliate them is a specific agenda of BJP. D K Shivakumar has been bearing the brunt since two years. We are with him in this fight against an authoritarian regime," Rao tweeted.
BJP has consistently rejected the allegations. Senior BJP leader and state Minister for Large and Medium Scale Industries Jagadish Shettar rejected the Congress charge, saying the institutions were only doing their job.
Revenue Minister R Ashoka too junked the allegations of vindictive politics.
"Whether be it ED, CBI or any other agency, they are all independent. BJP never does such politics because we don't need to do so. Whatever is going on is as per the law," said Ashoka.
Former chief ministers HD Kumaraswamy and Siddaramaiah among others have condemned the action against Shivakumar, calling it vindictive.
Former chief minister HD Kumaraswamy accused the "ruling government" of using investigation agencies to oppress opposition.
"After days of interrogation, without allowing even a day's break for the festival, ED now cites non-cooperation to arrest. The ruling govt is using investigation agencies to oppress those opposition leaders who they think are a threat to their interests," he said in a tweet soon after the arrest.
Currently, both Centre and Karnataka have BJP governments.
Siddaramaiah said in a tweet: "@DK Shivakumar will definitely come out clean & the whole country will understand the ulterior motives of @BJP4India. We are all with him in this difficult times & shall provide him with full support".
ongress leaders on Tuesday slammed a section of BJP leaders who backed the action by the ED against Shivakumar.
Shivakumar was in tears on Monday before entering the ED office in New Delhi as he expressed his anguish over the statements by Deputy Chief Minister Govind Karjol and Health Minister B Sriramulu.
Karjol had used a Kannada adage on Monday, which translates to "Those eating salt will have to drink water."The adage is similar to "as you sow, so shall you reap".
Sriramulu said on Monday Shivakumar was dreaming of becoming chief minister but it will remain just a dream.
"His (Shivakumar's) desire will never reach fruition.
Congress has sidelined him but yet he thinks things will fall in place, which will never happen", Sriramulu had said.
Addressing a press conference here on Tuesday, Ugrappa, who is the state Congress spokesperson and a former Lok Sabha member, said Shivakumar was not a criminal.
"He is not running away but yet he was summoned on Ganesha Chaturthi day. If not vendetta politics, what else is?"
Ugrappa claimed the amount of Rs 8 crore cash over which ED has grilled him had been accounted for and it was a tax paid money.
"When the country's economic health is in bad shape, the government is trying to divert public attention through various means. It is pursuing the politics of vendetta. This witch hunt must stop," said Ugrappa.
Commenting on Karjol's statement using salt analogy, Ugrappa said, "I want to know what the BJP leaders ate when they went to jail."
Former minister and member of legislative council H M Revanna too slammed some BJP leaders for their statements against Shivakumar.
"Shivakumar is not running away. He is there to face the probe. We are sure he will come out clean but the statements by some leaders are condemnable," Revanna told reporters.
Meanwhile, Sriramulu apologised saying he never meant to hurt anybody.
"My statement was political in nature. It was never meant to hurt anybody. Yet if it has hurt Shivakumar then I sincerely apologise," Sriramulu told reporters here.
The ED had in September last year registered the money laundering case against Shivakumar and others based on a charge sheet (prosecution complaint) filed by the Income Tax Department in a court here for alleged tax evasion and hawala transactions worth crores. Shivakumar has consistently denied any wrongdoing. Agencies
I congratulate my BJP friends for finally being successful in their mission of arresting me.

The IT and ED cases against me are politically motivated and I am a victim of BJP's politics of vengeance and vendetta.

— DK Shivakumar (@DKShivakumar) September 3, 2019