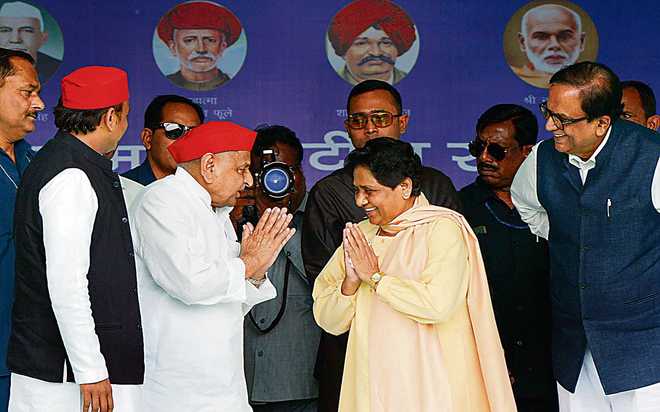 Shahira Naim
Tribune News Service
Mainpuri, April 19
Burying personal and political enmity, Samajwadi Party patriarch Mulayam Singh Yadav and BSP president Mayawati today shared a dais after a quarter of a century.
At a mammoth rally of the SP-BSP-RLD mahagathbandhan in Mainpuri, a visibly moved Mulayam profusely thanked Mayawati for her support, saying he would never forget the kind gesture.
He asked the crowds to welcome Mayawati with a thunderous applause and always remember to give her the respect that she deserved. "She has come to my support, when needed," he said.
Hinting it would be his last election, he asked the crowds: "Will you ensure that I win my last election with the highest margin?" Seeking votes for her once archrival, Mayawati asked the audience to elect Mulayam with a record margin.
Once again explaining why she had decided to put the incident of June 2, 1995, behind her, she observed: "The country is passing through a difficult period. So I decided to set aside the June 2, 1995, incident in the larger interest of the nation". She said Mulayam Singh was not "fake" like PM Narendra Modi but a " genuine leader of Backward Classes", stressing that this election was about "distinguishing between the real and fake."
Akhilesh Yadav described the occasion as historic and asked the people to ensure Mulayam Singh's victory as one of the biggest in country. Mayawati and Mulayam never saw eye to eye after the infamous 1995 Guest House incident when MLAs close to the latter tried to assault Mayawati. This led to the fall of the SP-BSP government and Mayawati was installed as Uttar Pradesh Chief Minister for the first time.
---
Mulayam Singh Yadav is 'genuine' leader of Backward Classes. This election is about distinguishing between the real and fake. —Mayawati, BSP Supremo
Always remember to give her (Mayawati) the respect that she deserves. She has come to my support, whenever needed. —Mulayam Singh Yadav, SP Patriarch