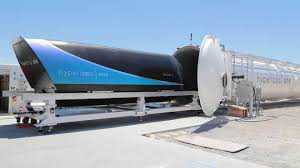 Shiv Kumar
Tribune News Service
Mumbai, June 17

Maharashtra Chief Minister Devendra Fadnavis wants Richard Branson's Virgin Hyperloop One to speed up the setting up of a test track for the new mode of transport, according to a statement put out by his office.

Fadnavis, who is travelling abroad to drum up investment in the state, visited the Hyperloop's test site at Las Vegas in the US on Saturday where he discussed the proposal to unveil this mode of transport between Mumbai and Pune.

According to the Memorandum of Understanding signed between the Pune Metropolitan Region Development Authority and Hyperloop One to set up a test track in Maharashtra last November, travel time between the two cities spanning 200 km will take 25 minutes instead of four hours at present.

The MoU says that a 15 km-long demonstration track is to be set up on the outskirts of Pune by Hyperloop One.

According to the statement put out by Fadnavis' office, a pre-feasibility study for Hyperloop project on the Mumbai-Pune route has already been completed. The PMRDA estimates that construction of the hyperloop would be completed in four years' time at a cost of Rs 20,000 crore.

The Hyperloop mode of transportation suggested by maverick entrepreneur Richard Branson has not been implemented anywhere in the world. However, Branson's concept, which aims to allow supersonic transport via a pod moving inside a vacuum tube, has drawn interest from technology afficionados around the world.
Top News
Harried passengers take to social media to vent their ire at...
Lapid had stirred a massive controversy by terming Vivek Agn...
Voter turnout less than 66.75 pc recorded in first phase of ...
DigiYatra will provide seamless entry and embarkation proces...
His song 'Mahakaal' removed from YouTube after 19 hours