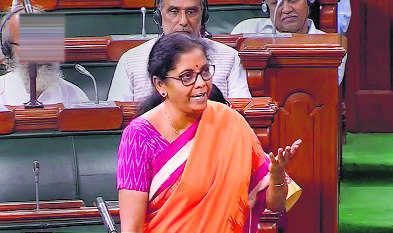 Tribune News Service
New Delhi, July 18
The Lok Sabha today passed the Finance Bill 2019 to give effect to the tax proposals for 2019-2020 with Finance Minister Nirmala Sitharaman saying the proposals would boost "Make in India", less-cash economy and ease the pain of the common person.
Sitharaman, while replying to the debate on the Bill, did not relax tax proposals – a demand most Opposition MPs made. She disagreed with the Opposition suggestion of removing the cess on petrol and diesel and reconsidering 2 per cent TDS on withdrawals of more than Rs 1 crore annually.
The minister was silent on raised customs duty on newsprint to 10 per cent. This hike was opposed by several Opposition MPs.
On the issue of proposed raise in tax liability on people earning more than Rs 2 crore a year, she said the proposal won't impact Foreign Portfolio Investors (FPIs) if they organised themselves as a company.
"There is an option for FPIs to register as a company. When that's done, you don't have a problem of tax which some members have raised," she said, describing a trust as a taxable entity.
On 2 per cent TDS on cash withdrawal beyond Rs 1 crore a year, Sitharaman reasoned that tax could be adjusted against the liability of the assesses and there won't be any additional burden.
Explaining tax law simplification, Sitharaman said the Ministry had set up a task force to finalise a new Direct Tax Code (DTC) and its report would come by month end.
She said seven legislations under indirect taxation, including Goods and Services Tax (GST), were being amended to ensure greater simplicity.
Can MPs name Adani, Ambani? Counsel sought
BJP's Meenakshi Lekhi, presiding over LS proceedings during discussions on the Finance Bill, ruled that industrialists Adani and Ambani referred to by TMC's Saugata Roy be expunged from LS records. BJD's Mahtab intervened to tell Lekhi that MPs have routinely named industrial houses like Tatas and Birlas in LS much like Adanis and Ambanis and that she should seek LS secretariat counsel on precedents before ruling on the matter.