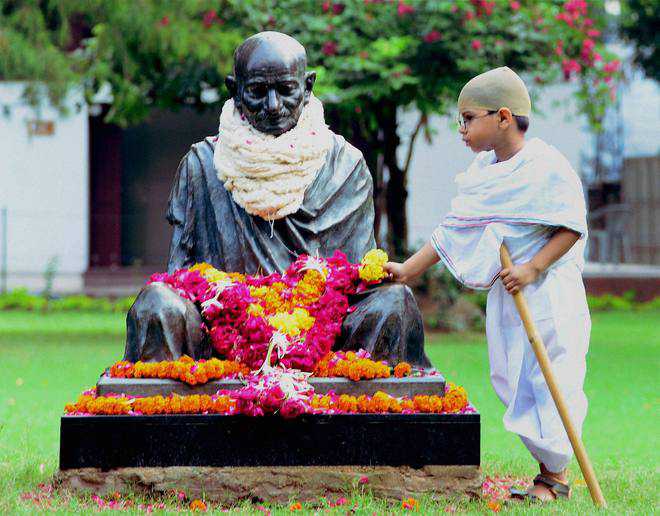 Aditi Tandon
Tribune News Service
New Delhi, October 2
While it is known that six persons appear as Indian laureates in the record of the Nobel Prizes Committee, what's surprising is that 14 other Indians were nominated for the Nobel Peace Prize till 1964 with none being awarded one.
Among them was Mohandas Karamchand Gandhi, who was nominated four times for the Nobel Peace honour but not considered due to political and other influences that dominated the selections. A new book on the history of Nobel Peace Prizes by Indian researcher Rajinder Singh presents an account of these unrecognised Indians.
The book reveals that Gandhi was nominated for the prize in 1937, 1938, 1939 and 1947 but neven chosen. An attempt was made to honour him after his death in January 1948 though by then the Nobel had never been posthumously awarded.
Even this award eluded Gandhi on grounds that he didn't belong to any organisation that could manage the prize money. The book notes that the Nobel committee was told that Gandhi had left no estate or testament. There was the Harijan Trust but it only published the writings of Gandhi and wasn't responsible for money matters.
The author documents how Gandhi's associate K Mashruwala told the Nobel committee that Sarvodaya Samaj was a conglomeration of organisations with the aim of pursuing Gandhi's ideas and was not a physical organisation to manage funds.
"The Gandhi Memorial Fund, founded after Gandhi's death, suggested the Norwegian Parliament to pass a resolution that money should go to the Fund," Singh writes, adding that the government was unable to show how these funds would be used.
"The chance of a posthumous award also passed," says the book Inside Story of Nobel Peace Prize Award: Indian contestants. That the Nobel committee was uncomfortable about denying Gandhi the prize was clear when it amended the omission partly in 1989 while presenting the Nobel Peace Prize to The Dalai Lama.
Gandhi was first nominated for the Nobel by O Colbjornsen, member of the Norwegian Parliament. The Nobel committee-appointed expert Jacob S Worm-Muller, a historian, was critical of Gandhi saying his actions in politics were tactical and he was a nationalist rather than an internationalist. In 1937, the Nobel committee did not see Gandhi's work as finished and ignored him for the award.
In 1938 and 1939, 27 members from Friends of India, Denmark, sent a petition supporting his nomination. "Despite a large number of proposals, Gandhi was not shortlisted. Colbjornsen wrote to the Nobel panel saying he would propose Gandhi for the prize," the book says. On his last nomination, the Nobel committee-appointed expert Jens Seip gave a positive report but the award again eluded Gandhi who died on January 30, 1948.