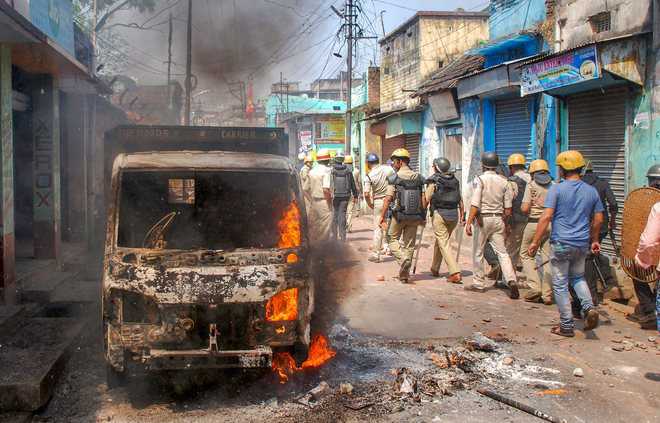 Tribune News Service
Kolkata, March 28
Fresh clashes were on Wednesday reported from the riot-affected Asansol in West Burdwan district of West Bengal, even as the Centre sought report from West Bengal government on the continuing communal violence while offering additional Central forces. The state government, however, refused the offer.
Two groups of people pelted each other with stones at the "Railpar" area of the city and a police team sent to control the riotous mob was found to be hugely inadequate. The cops fled the spot following which a police vehicle abandoned by its occupants was set on fire. Later, a huge posse of policemen and the RAF reached the spot to bring things under control.
Asansol Durgapur Police Commissioner Laxmi Narayan Meena said Section 144 had been imposed in both Asansol and Raniganj.
Clashes took place at Raniganj on Monday in which one person lost his life while a DCP got seriously hurt by a bomb thrown at police.
Alarmed by the violence, a senior Home Ministry official said, "In a communication to the West Bengal Government, we have asked it to send a report about the incident, the steps being taken to restore normalcy and the action taken against those involved in the violence." He added that the Centre had offered assistance of paramilitary forces in the light of reports of continuing violence and tension in some districts of the state.
Education Minister Partha Chatterjee, however, said the state government had turned down the offer. The state police would be able to effectively handle the situation, he said.
In view of the volatile security situation, the West Bengal Government on Wednesday prevented Governor Kesari Nath Tripathi from visiting Durgapur to see IPS officer Arindam Dutta Chowdhury whose right hand was seriously injured in a crude bomb explosion in Raniganj on Monday during a Ram Navami procession. Doctors at Mission Hospital in Durgapur are trying to save the affected hand of Chowdhury.
Tripathi, who does not share the best of relations with the Mamata Banerjee government, had received a representation from Asansol BJP MP and Union Minister Babul Supriyo on Tuesday about the Raniganj riots, even as the Home Ministry sought a report from the state government while offering to send central forces.
Meanwhile, besides seeing the injured IPS officer, Tripathi also wanted "to acquaint himself about the situation" of the riot-torn area. But the plan was scuttled by the state government. Since Sunday, three persons reportedly lost their lives — one each in Purulia, Kankinara in North 24 Parganas and Raniganj in Asansol — in the riots triggered off by the Ram Navami rallies taken out by the BJP. Meena denied that anyone was killed in the violence in Raniganj. However, unofficial sources said a young man was hacked to death by rioters.
Bengal burning, Mamata busy politicking, says BJP
Union Minister Prakash Javadekar on Wednesday said West Bengal is burning due to violence during Ram Navami while Chief Minister Mamata Banerjee is busy playing politics in Delhi
"Mamata Banerjee is enacting 'Nero fiddled while Rome burned' in Delhi. You may play politics if you so wish, but first douse the fire which the goons of your own TMC have ignited," the BJP leader said
After making a presentation on violence in the state, he said, "Law and order has failed in West Bengal. First go to Bengal and bring the situation under control and then do whatever politics you want to do"
Top News