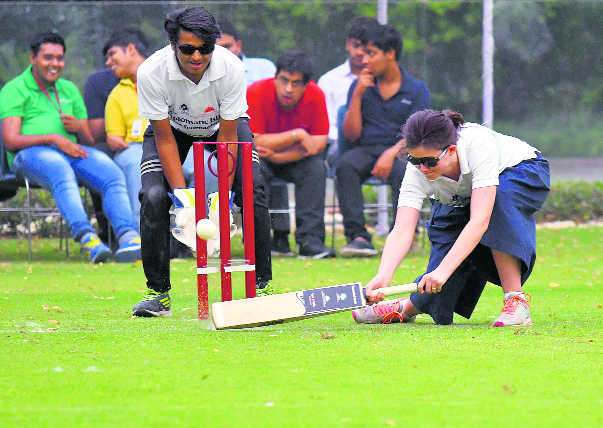 Smita Sharma
The recent Cameron Bancroft ball-tampering episode may have affected the spirits of fans Down Under. But passion for cricket shared by Australians and Indians remains unfazed.So the Australian High Commission used the gentleman's game for a social cause — to spread the message of inclusivity. On a windy Delhi afternoon, the Mission hosted an Inclusive Blind Cricket Exhibition Match as part of its "Development4All campaign".
The two teams A and B featured a mix of players from the World Cup winning Indian Blind Cricket squad and diplomats from Australian, British and New Zealand High Commissions. Union Minister for Social Justice and Empowerment Dr Thawar Chand Gehlot flipped the coin to decide which team would play first and also took to the pitch to play a few balls prior to the match.
"We have been running a campaign for disability and inclusion this year.This is a way to really challenge the people's expectations that cricket is not only for the elite, it is something every one can play," said Chris Elstoft, Australian Deputy High Commissioner. Diplomats were provided a 15 minutes' training for the under arm bowling exhibition match. Nervous that the world champion partially sighted and blind cricketers would defeat the diplomats easy, teams were mixed for the 6 overs game.
"We plan to do a proper tournament with 4 teams and 4 embassies participating. Last year we had to cancel a similar plan because of the high pollution in the city," remarked Australian diplomat Simon O'Connor . Team A, led by Ajay Kumar Reddy, captain of the Indian National Blind Cricket Team, won the match by 17 runs. The message was the winner too. "Challenges we face are essentially since society has not accepted us. When they accept us, disability will not be any barrier for us," said Sonu Golkar,a top player in the Indian squad that lifted the Blind Cricket World Cup recently.
Talking trade with Taiwan
From cricket to commerce, diplomacy has several tools for connectivity.Taiwan and India may not have diplomatic ties but can surely talk trade. Amid Beijing's aggression on the One China Policy, Taiwan is expanding trade ties with Asia's third largest economy—India. The Taipei World Trade Centre (TWTC), launched its office in New Delhi to promote bilateral trade.The gross volume of bilateral trade in goods stands at USD 6.3 billion with a 27 per cent increase over the previous year.
Taiwan hopes to penetrate Indian markets such as electric vehicles, petrochemical, automobile parts, green energy, water treatment and textiles. TWTC plans to propel Taiwanese language across various countries, including India. China for now is mum.