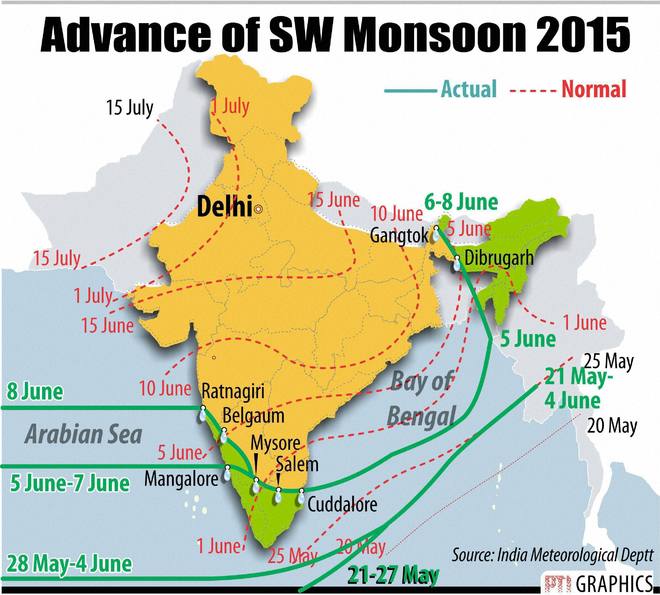 Vibha Sharma
Tribune News Service
New Delhi, June 8
Good rains over the past three days have perked up the prospect of southwest monsoon in the country but the intensifying cyclonic storm Ashobaa in the Arabian sea may halt its progress for a couple of days.
According to the IMD, over the past three days seasonal rains further advanced into central Arabian sea and covered entire Goa, some parts of south Konkan and remaining parts of coastal and south interior Karnataka.
Making a good progress since June 5, the Northern Limit of Monsoon (NLM) is currently passing through Rathnagiri, Mysuru, Salem, Cuddalore, Dhubri and Ghangtok. Conditions are favourable for its further advancement into Konkan, remaining parts of Tamil Nadu, some more parts of Rayalseema and central Bay of Bengal during the next two days.
However, there could be a small lull, a delay in movement of monsoon current for the next two days or at least till the time Ashobaa makes a landing at Oman coast around June 11.
Mahesh Palwat of private forecaster Skymet says monsoon prospects have improved considerably since its landing on the Indian main land last week. In the next two days rains will increase over Kerala, Gujarat and Maharashtra coasts due to Ashobaa.
However, because the entire energy and moisture will remain concentrated towards the cyclone till the time it moves north and later northwest to land at Oman, there will be reduced rain activity in the interiors of South Peninsula- Karnataka, Tamil Nadu and Kerala.
The much-awaited seasonal rains are expected to arrive in Delhi, Chandigarh and Haryana around first week of July, most likely around July 4.
Top News