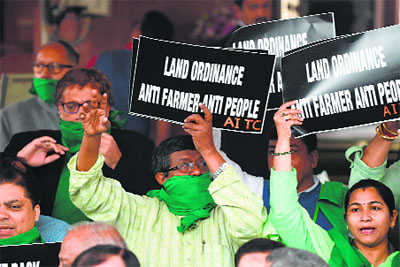 Aditi Tandon
Tribune News Service
New Delhi, Feb 24
On a day when social activist Anna Hazare upped the ante on the land ordinance and the Opposition toughened its stand on the issue, the government said it was open to suggestions even as it introduced the Bill in the Lok Sabha.
Indications of government's open mind came from Prime Minister Narendra Modi while addressing BJP MPs. Modi said the government was open to suggestions on the Bill but there was no going back on it. Later in the day, Home Minister Rajnath Singh met farmers' organisations promising to take their concerns on board.
Parliamentary Affairs Minister M Venkaiah Naidu made a presentation to NDA MPs on the nuances of the new law and why they needn't be apologetic about it.
Inside the House, the introduction of the Right to Fair Compensation and Transparency in Land Acquisition, Rehabilitation and Resettlement Amendment Bill-2015 witnessed a walkout by a united Opposition barring the TRS.
Even the Shiv Sena, BJP's ally in the government, opposed the Bill by Rural Development Minister Birender Singh who said the government was willing to debate the provisions of the proposed law.
"If you pass this Bill forcibly, the farmers will not spare you," was what Sena's Raju Shetty told the government while the Congress-led Opposition, including the TMC, CPM, RJD, NCP, SP and AAP walked out.
The government needs to pass the Bill by April 6 (within six weeks of commencement of session) to prevent the ordinance from lapsing. Congress leader Mallikarjun Kharge termed the Bill as anti- people and anti-poor slamming the government for "bulldozing Opposition's view on the issue and of betraying the commitment of its own leaders Sushma Swaraj and Arun Jaitley who as Leaders of Opposition in the last Lok Sabha had consented to the previous law".
Kharge questioned the government for not referring the Bill to a standing committee of Parliament. The Congress, which has planned a protest at Jantar Mantar tomorrow, said it wanted complete withdrawal of the ordinance and could only discuss with the government how it was anti-farmer. "We can tell the government how this ordinance is against farmers but we want the ordinance withdrawn in toto," Congress spokesperson Randeep Surjwewala said after Finance Minister Arun Jaitley offered to hold an all party meeting to deliberate on the issue.
The government for its part defended the ordinance. After the introduction of the Bill in Lok Sabha, Naidu said 32 states had told the government how the UPA's version of the Bill made development difficult. "The CM of Congress-ruled Maharashtra had in 2011 written to the then Rural Development Minister Jairam Ramesh opposing the UPA's land acquisition law and had significantly lowered the compensation mandated to be offered to the land owner," said Naidu appealing to the Opposition not to politicise the issue.
Contentious provisions
Removes the clause in the 2014 law which says the acquired land if not used in five years must be returned to the owner
Makes five exceptions to the clause in the 2014 law which mandated consent by land owners in varying degrees starting 70%.
Removes the requirement of social impact study of land under acquisition in the cases of exempted sectors
Govt view
Smart cities, industrial corridors and nuclear installations are projects with long gestation periods and can't be completed in five years
No consent is needed for acquisitions in five categories, defence, rural infrastructure; industrial corridors, social projects and affordable housing
Land acquisition is state's sovereign right; public interest must prevail on private interest though fair compensation must be paid
Top Stories