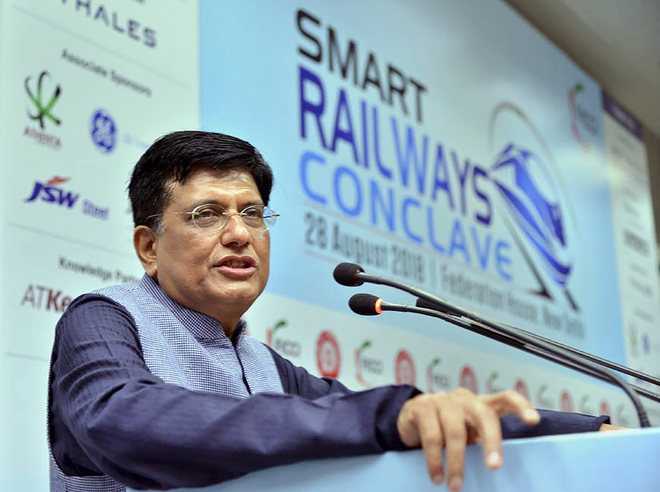 Tribune News Service
New Delhi, August 28
In a bid to make the Indian Railways "smart, safe and punctual", Minister of Railways Piyush Goyal on Tuesday announced that in the next six to eight months all the locomotives of the national transport monolith will be fitted with GPS and more than 6,000 stations will become WiFi-enabled.
Inaugurating a conclave on "Smart Railways" organised by an industry body here, Goyal insisted that the Railways was focusing on "smarter project implementation".
"We believe that if we have to leverage digital technology, the basic ingredient is to ensure access to technology in the remotest part of the country. The Railways is working on a programme to ensure the last mile connectivity wherever we do not have fibre optics in our network. We are hopeful that in the next six to eight months, all railway stations, other than the halt stations, will be WiFi-enabled," he said.
Noting that the national transport monolith need to "think, plan and work smartly" to improve its efficiency, Goyal also announced that soon all the locomotives of Indian Railways will be fitted with GPS device to ensure better tracking of movement of passenger and goods trains.
On punctuality of trains, the minister said that between April 1 and today, punctuality has improved to 73-74 per cent as the railways has made a change by replacing the manual recording of time by station masters with data loggers placed at interchange points across the network that ensure computer-generated time.
The minister also said the Railways was embarking on making itself efficient in a big way which will save $2 billion every year, which otherwise would have to be passed on to the passengers.