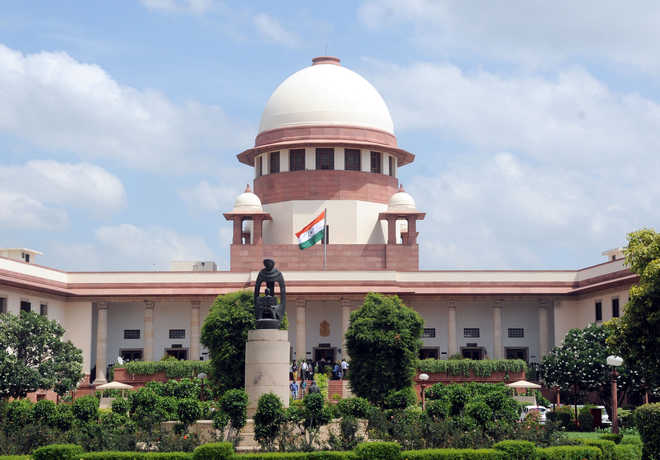 R Sedhuraman
Legal Correspondent
New Delhi, April 7
The Supreme Court today questioned Haryana, Gujarat and Bihar for their refusal to declare drought despite deficient rainfall, a primary indicator for the purpose under the Centre's manual and guidelines meant for providing adequate and timely relief to the affected people, particularly the poor.
"The case is about people's lives, not about any picnic in Haryana," a Bench comprising Justices MB Lokur and NV Ramana told the state counsel after noticing that the government had taken the issue casually and not even bothered to file its affidavit in response to the court notice on a PIL.
Upon this, the state counsel handed over some documents to the Bench which mostly turned out to be old statistics with no relevance to the PIL case about scanty rainfall in 12 states in the last two years.
It was also noticed that the Centre and the state had different rainfall figures for Haryana, prompting the Bench to wonder which data was to be relied upon.
The Bench, however, pointed out that both the figures showed that the monsoon shortfall was more than 30 per cent and going by the Centre's manual 2009 and the relevant guidelines drought had to be declared if the deficiency was 25 per cent or more.
Haryana, however, said it was not declaring drought as there was no fall in its foodgrains production. Farmers mainly depended on river waters supplied through canals, besides tubewells, it said.
Similar reasons were advanced by Bihar and Gujarat, prompting the Bench to wonder as to why the Centre had come out with the drought manual if states were not to follow it.
At this, Additional Solicitor General Pinky Anand said the manual was recommendatory and not binding on the states.
Unconvinced, the Bench said the manual was meant to ensure some uniformity across the country in deciding the drought situation and states could not reject these altogether. The states' criteria could have some minor variations and not be entirely different, it said.
The Bench said the government could not deny the poor people the benefits due to them in the event of drought.
In drought-hit areas, people were entitled to 150 days of work, against 100 days in other places under the Mahatma Gandhi National Rural Employment Guarantee Act (MNREGA). There were also entitled to supply of essential commodities such as lentils, egg, oil and milk at subsidised rates.
According to the petitioner, NGO Swaraj Abhiyan, the other nine states facing drought are Uttar Pradesh, Madhya Pradesh, Karnataka, Andhra Pradesh, Telangana, Maharashtra, Odisha, Jharkhand and Chhattisgarh.