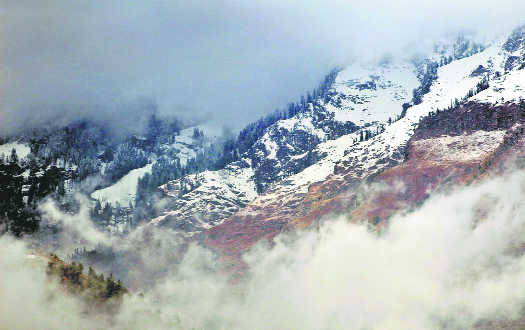 Vijay Mohan
Tribune News Service
Chandigarh, March 27
Affirming that the impact of global warming is evident over north-western Himalayas in the form of rising maximum and mean temperature across all zones, a study by the Snow and Avalanche Studies Establishment (SASE) has revealed that snowfall in the mountain ranges has decreased while rainfall has increased of the past 25 years.
"An overall warming signature was observed over north-western Himalayas since maximum, minimum and mean temperature followed rising trends with the increase being statistically significant for maximum and mean temperatures," the study states.
Published in February, the study is authored by HS Negi, Neha Kanda, MS Shekhar and Ashwagosha Ganju from SASE, a laboratory under the Defence Research and Development Organisation. Data generated from 16 observatories located in three zones classified as Lower Himalayas, Greater Himalayas and the Karakoram Himalayas on the basis of latitude, was used.
While Karakorams and north-western Himalayas have experienced overall warming in the last 15 years (2001-2015), on the contrary, maximum and mean temperature trends during the last 15 years depict cooling in some zones of the lower and greater Himalayas. "This could have resulted from increased aerosol emissions by anthropogenic activities as aerosols by virtue of their absorbing nature do not allow much of incoming solar radiation to reach earth's surface thereby leading to cooling," the authors observe.
---
Flood threat to Kashmir
A study by the Snow and Avalanche Studies Establishment (SASE) has revealed that increase in mean temperature over Greater Himalayas has led to overall long-term glacier retreat
It further states that increase in precipitation during winter has induced a flood situation in Kashmir. Besides, avalanches and landslides are expected to increase during late winter