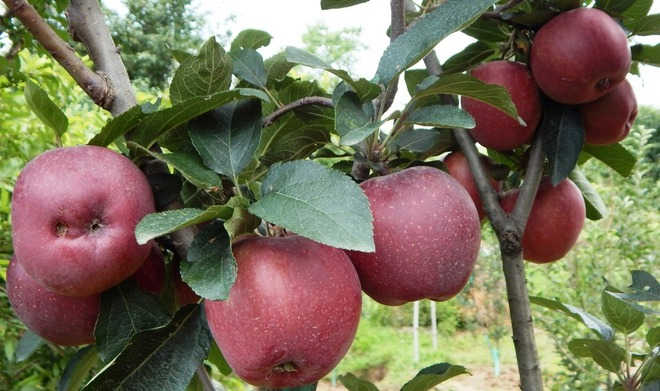 Pratibha Chauhan
Tribune News Service
Shimla, December 2
Increase in temperatures, erratic rain, decreased snowfall and overall warming on account of climate change could have serious repercussions for the ecologically fragile Himalayan region with apple production, power generation, agriculture, tourism to be hit adversely over the next few decades.
These are the findings of a study on green growth and sustainable development in Himachal Pradesh undertaken by The Energy and Resource Institute (TERI). The study clearly indicates that climate change will have an impact on natural resources of the hill state. Extreme rain events are also likely to increase in future.
The impact of climate change, especially the increase in temperature, will hit apple productivity, which is likely to decrease by 1 per cent by 2020 and 4 per cent by 2030. Lahaul-Spiti, Kinnaur, Shimla, and Sirmour will be affected due to decrease in the total annual surface runoff. The performance of hydropower projects could be hit due to surface runoff and soil erosion.
Despite having taken several initiatives to develop a climate-resilient green growth strategy for the state, the ecologically fragile tribal districts of Kinnaur and Lahaul -Spiti are likely to suffer the worst impact of climate change. Himachal could face overall warming by 1.3 to 1.9 °C between 2021 and 2050.
It has been observed that precipitation is likely to vary from 8 per cent to 12 per cent over different regions and 15 to 40 per cent of total rainfall will be concentrated within a short period.
The study was undertaken by TERI in collaboration with the Global Green Growth Institute and nodal support from the State Department of Environment, Science and Technology, Directorate of Energy, Directorate of Economics and Statistics, engaged in a unique partnership for the study. Sector wise review of air quality, water, forestry, biodiversity, waste management, renewable energy, transport, industry, agriculture, buildings, and climate change was undertaken.
Shailly Kedia, Project Coordinator, TERI said climate change was bound to have an impact on natural resources in the state. Based on soil and water assessment tool, it is projected that about 11.61 per cent area of the state will have catastrophic soil erosion.
Top News
Voting for final phase of Gujarat polls ends, counting of vo...
'You (government) are only filing FIRs, but according to you...
Final voting figure expected to rise further as collecting d...
BJP ruling civic bodies since 2007, won 181 of total 270 mun...
The Delhi govt opposes the Centre's plea saying it will only...