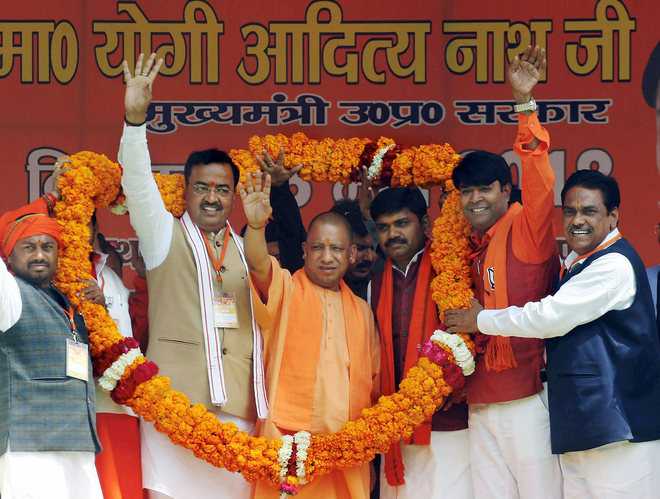 Shahira Naim
Tribune News Service
Gorakhpur, March 8
"This is the first time in many years that the Mandal forces are unitedly fighting with the kamandal forces in Gorakhpur", observed Shravan Nishad, brother of the Samajwadi Party candidate in Gorakhpur.
He virtually sums up the scenario and the reason for the BJP's unease in Gorakhpur where Chief Minister Yogi Aditynath is perhaps facing the fiercest battle of his political career.
An inkling of the significance of BSP supremo Mayawati's support to the SP candidates in Gorakhpur and Phulpur in particular and Mandal forces in particular can be gauged from the fact that hours after the BSP's declaration the Gorakhpur SP candidate Praveen Nishad, along with his father and national president of the Nirbal Indian Shoshit Hamara Aam Dal (NISHAD) party Sanjay Nishad and hundreds of supporters, went to pay obeisance at the Gorakhnath temple.
This was a symbolic gesture of reclaiming spaces. Sanjay Nishad has been claiming for a long time that the Gorakhnath temple belongs to the Nishad community as Baba Gorakhnath's Guru Matsyendranath was a Nishad. While the Nishads were praying at his temple, the present Mahant, Yogi Adityanath, was seeking votes for the BJP at a public meeting in Karnataka.
Nishad represents the largest subcaste of OBC in the Gorakhpur constituency having approximately 3.5 lakh or 17 per cent of the voters. Traditionally, they had been in the profession of rowing boats, catching fishes or in small trades dependent on rivers. The prominent backward castes which come under the umbrella of the larger Nishad identity are Kewat, Mallah, Majhi, Rajbhar, Gond, Kashyap and Kahar.
Yadav and Dalit also have approximately 2 lakh voters each and Muslims close to 2.5 lakh voters. Brahim and other upper caste votes together have barely 1.5 lakh votes mainly in the urban areas.
But for the first time in three decades the Mandal forces are together fighting a battle to oust the Mahant of the temple who have represented this seat since 1989.
Sensing this, CM Yogi has been attempting to polarize Hindu votes in the face of the rise of Mandal forces. On the floor of Vidhan Sabha on March 6, a strident CM Yogi declared that he did not celebrate Eid as he was a Hindu and very proud of being one.
Countering this rhetoric at a public meeting in rural Gorakhpur on Wednesday, SP chief Akhilesh Yadav asked, "If you are a Hindu, then who are we? If we are Hindu accept us. Or do we remain backwards and Dalits?"