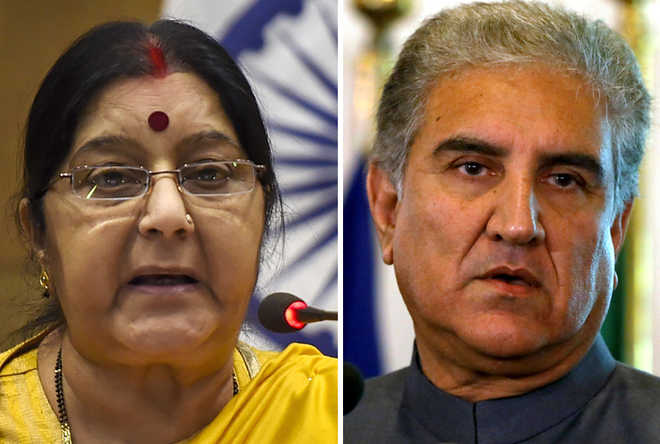 Smita Sharma
Tribune News Service
New Delhi, September 19
The Ministry of External Affairs (MEA) has confirmed that Sushma Swaraj will hold a meeting with her Pakistani counterpart Shah Mehmood Qureshi in New York next week.
The development was first reported by The Tribune. The two leaders will represent their countries at the United Nations General Assembly (UNGA) and also participate in the SAARC council of ministers meeting to be held on September 27 along the sidelines. "I can confirm that on the request of Pakistani side, a meeting between External Affairs Minister and Pak Foreign minister will take place on the sidelines of the UNGA at a mutually convenient date and time," said MEA spokesperson Raveesh Kumar.
While the permanent missions of India and Pakistan to UN in New York are finalising schedule and agenda of talks, sources suggest the ministers could hold talks a day prior to the SAARC meeting.
However, the Indian government insists that this is not start of a structured dialogue and neither is there any change in its stated position that "talks on terror can happen, but talks and terror cannot go together".
"I must distinguish between a meeting and a dialogue. This should not be confused with resumption of any dialogue. This is a meeting based on a request which we have got from the Pakistani side. This does not indicate any change in policy as far as our stand on terrorism and cross border terrorism is concerned," underlined Raveesh Kumar.
This meeting follows a letter written by Pakistani Prime Minister Imran Khan in response to congratulatory letter penned to him after his oath taking ceremony by PM Narendra Modi. The letter dated September 14 was handed over by Pakistani envoy Sohail Mahmood to MEA on 17th. The same day Pakistan's foreign minister Shah Mahmood Qureshi also sent a letter for Sushma Swaraj. Endorsing the sentiment shared by PM Modi of a need for 'constructive engagement,' Imran Khan in his letter wrote, "Pakistan and India have an undeniably challenging relationship. We, however, owe it to our peoples, especially the future generations, to peacefully resolve all outstanding issues, including the Jammu & Kashmir dispute, to bridge differences and achieve a mutually beneficial outcome. Siachen and Sir Creek also need close attention to move towards resolution."
Khan in his letter proposed a meeting between the two foreign ministers along UNGA sidelines to 'explore the way forward', including possibility of the SAARC summit to be held in Islamabad. "The summit will offer and opportunity for you to visit Pakistan and for us to re-start the dialogue process," added the Pak PM.
"PM has responded to PM Modi, in a positive spirit, reciprocating his sentiments. Let's talk and resolve all issues. We await formal response from India," said Pak Ministry of Foreign Affairs spokesperson Mohammad Faisal earlier today.
However, India, in its response, maintained that along with other SAARC members it feels that the regional atmosphere is not conducive to hold a summit meeting. India led boycott of SAARC summit continues since the Uri terror strikes of 2016.
While the agenda of meeting is under discussion, India is expected to raise concerns on terrorism and cross-border infiltration and Pakistan is likely to raise the K bogey in talks. The issue of Kartarpur Sahib corridor opening will be taken up by Swaraj in her meeting with Qureshi, confirmed MEA.
---
LOOKING BACK AT PEACE INITIATIVES

There has been no

structured India-Pak

dialogue since 2012

PM Narendra Modi and Nawaz Sharif met in Ufa during SCO in July 2015

NSA Doval held a secret meet with Nasir Janjua

in Bangkok on Dec 6

While in Islamabad for 'Heart of Asia' meet, Swaraj held talks with

Pak FM on Dec 9

The two decided to restart Comprehensive Bilateral Dialogue

PM Modi paid a surprise visit to Lahore on

December 25, 2015

Setback after terrorists attacked Pathankot air base on Jan 2, 2016

Swaraj and Pak FM hold talks on terror at Pokhara SAARC meet in March

India allows joint probe

of Pathankot attack,

NSAs keep in touch

Modi dials Imran Khan after his election victory in August 2018

Imran Khan responds to PM Modi's letter on

September 14