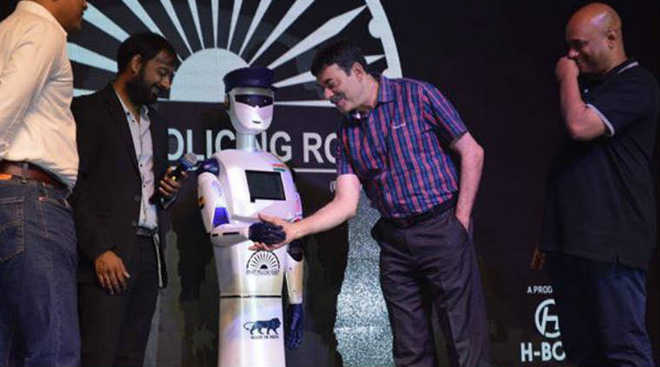 Suresh Dharur
Tribune News Service
Hyderabad, December 30
India's first 'Robocop', capable of performing police duties, has been launched in Hyderabad.
Developed by the city-based Artificial Intelligence and Machine Learning start-up H-Bots Robotics, this 5 ft 7 inch tall smart police robot, weighing 43 kg, can receive complaints, record audio and video clips, identify suspects, detect metals and monitor temperature.
(Follow The Tribune on Facebook; and Twitter @thetribunechd)
The 'Robocop', launched by the Telangana Information Technology Secretary Jayesh Ranjan, can assist police in handling law and order, and traffic management. If deployed autonomously, it can even take of security at selected spots at malls or airports and public places.
Hyderabad becomes the first city in the country to deploy a police robot for commercial operations.
The robot would walk, recognise people, receive complaints and defuse bombs too, said PSV Kisshhan, the founder of H-Bots Robotics. It is the world's second humanoid robot after Dubai. The one in Dubai was made in France. "But, in this case, it will be totally an Indian made humanoid Robot," the company founder said.
"We are building capacity to produce 10 such Private Police Robots a year which can serve as private security guards and can be deployed in hotels, hospitals and offices," Kisshhan said. The cost of the robots ranges from Rs 5 lakh to Rs 20 lakh depending on the features.
The 'Robocop' will be able to recognise objects which had been stationed in a location for long hours and inform the Police Control Room. "Unlike the Police Robot currently used in Dubai, which moves only on wheels, our robot can walk, recognise people, take complaints and detect and defuse bombs too," the company executive said.
The life-sized robot has been named after 26/11 martyr Hemant Karkare and all Smart Police Robots to be produced by H-Bot Robotics in future will be named after police martyrs.
The robot is equipped with cameras and an array of sensors like ultrasonic, proximity sensors and temperature sensors. It also contains 24/7 connectivity, ensuring that its whereabouts are known. The robot has the ability to communicate in six different languages. English is already inbuilt and regional languages are under testing.
"This smart 'Robocop' with its autonomous physical presence interacts with its surrounding environment gathering data in real-time and detects irregularities without user interface without resting and operates at a fraction of the cost normally paid for technology, cameras, sensors and guard services," Krisshhan said.
It is a security robot specifically equipped to protect and secure public and private areas such as signal posts, malls, airports, offices, buildings with public places.
H-Bots will be testing the product in the field over the next five to six months before its commercial deployment, Jayesh Ranjan said.
"The robot's primary function as of now is to assist and help people in the malls, on the streets, public places, airports and railway stations. We will work along with the various police departments in customising the robot according to their needs." The IT Secretary said.
"These robots will be made available for commercial deployment in locations in India and we will ship the robots to other countries by end of 2018," the company official said.
The robot has futuristic body design and has inbuilt Artificial Intelligence. It has dual LED lights, thermal imaging, and emergency amber flash lights. It has automatic charging dock station. It can be deployed both for Indoor and outdoor jobs.
It can also be used as an assistant for database handling, control room surveillance, building space security, friendly interaction and mapping inside the building.