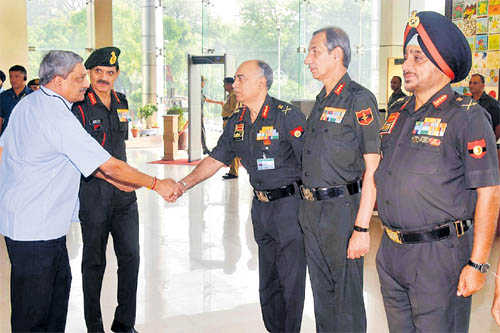 Ajay Banerjee
Tribune News Service
New Delhi, April 25
With China having re-structured its military commands in October last year, the Indian Army – the biggest of the three armed forces — has been told to work on a long-term integration with the IAF and the Navy to have joint commands.
The bi-annual Army Commanders' conference commenced in New Delhi today with the Army top brass listed to discuss a host of issues related to operations, threats and future planning.
Sources said China-style joint commands were a long-term plan and the top brass of all three forces had been told to discuss the issue among themselves. The IAF and the Navy have already completed their conferences. Defence Minister Manohar Parrikar visited one such joint command in Chengdu China on April 19.
A joint command, termed in military parlance as a 'theatre command' places the resources of all forces at the command of senior military commander. For example a 'theatre command' in the east will integrate components of the IAF and the Army and also have flotilla of the Navy integrated with it. At present, the only joint command is in Andaman and Nicobar.
The Army Commanders' conference is the highest level 'Army conference' held to discuss current internal and external strategic issues, review of operational preparedness of the Army and aspects pertaining to training, administration, military technology and force modernisation. The conference will culminate on 30 April 2016.
Meanwhile, addressing the Army Commanders' conference, Army Chief General Dalbir Singh Suhag stressed the necessity to maintain a high degree of vigil and operational preparedness along disputed borders.
He complimented commanders and troops in successfully executing recent counter-terrorist operations, while displaying due restraint.
General Suhag, who visited the exercise Shatrujeet over the weekend in Rajasthan, stressed the necessity of speeding up the Army's modernisation and capability development initiative. He stressed all commanders to continuously monitor and maintain internal health, values and ethics in all formations and units.