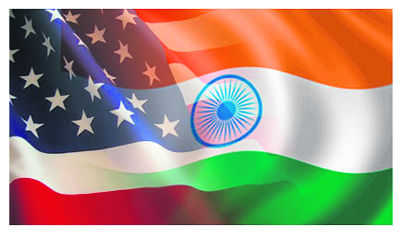 Sandeep Dikshit
Tribune News Service
New Delhi, September 19
Indian diplomats in the US have a double task on hand – ensuring a good assembly of US Congressmen and Senators at "Howdy, Modi" in Houston and guarding against the blowback from the communications clampdown in Jammu and Kashmir being projected by some quarters as a human rights issue, say sources.
In fact, several members of Congress have openly spoken against the Kashmir decision. Some US House of Representatives, all Democrats, have tweeted against the Indian Government's decision. They include Pramila Jayapal (Washington State), who is of Indian origin; Rep Andy Levin (Michigan), who wrote an article citing his travels to India as a teenager and said PM Modi's India "is not the India I fell in love with"; Rep Don Beyer (Virginia), and Reps Ted Lieu and Judy Chu (California). Senator Ben Cardin of Maryland too has tweeted against the Kashmir decision.
Ever since the August 5 revocation of J&K's special status, Indian diplomats have been active at Capitol Hill in an attempt to inform members of Congress of India's position. Their efforts are being supplemented by the Hindu American Foundation and a hired lobbyist on J&K, according to sources close to Rep Beyer.
About two weeks ago, a bevy of Indian diplomats in the US reportedly held a briefing of Congressional staffers at Capitol Hill. Also reportedly present with the Indian DCM were members of the Hindu American Foundation, a US-based NGO whose public positions are in sync with the RSS-BJP.
Subsequently, Indian diplomats called on Capitol Hill offices of various Congress members to brief them on India's position. While some of these meetings were with prior appointments, in several cases the Indian officials just walked into the offices, which is not the usual practice at Capitol Hill. The Indian Embassy officials reportedly tried to lobby with US Senator and Democratic Presidential candidate Bernie Sanders and sought a meeting with him to blunt his criticism. Sanders was unavailable and they were instead met by a staffer at his office.
Sanders is the most high-profile American politician to have spoken out against Indian Government's revocation of Kashmir's special status, calling it "unacceptable" at a convention of the Islamic Society of North America at Houston, Texas, less than three weeks ago.
Jayapal and Rep Jim McGovern (Democrat -Massachusetts) have written to Secretary of State Mike Pompeo, saying "we are concerned about credible reports from journalists and advocates on the ground that the Indian Government has detained thousands of people with no recourse, imposed de facto curfews and cut off internet and telephone access on the region". Four Senators — Cardin; Chris Van Hollen (Democrat Maryland); Todd Young (Republican - Indiana) and Lindsey Graham (Republican -South Carolina) wrote a letter to Trump urging him to take immediate action to help end the current humanitarian crisis in Kashmir.
The strongest criticism has come from Rep. Ro Khanna (California), who wrote it was the duty of all American politicians of Hindu origin to reject Hindutva and embrace pluralism. He named his Punjabi grandfather in that tweet, Amarnath Vidyalankar, a three-term Member of Parliament in India from Jalandhar, Hoshiarpur and Chandigarh, respectively, after having been a minister in the early governments in Punjab.
However, Khanna's stance has been opposed by numerous US-based Hindu organisations. The Hindu American Foundation said over 230 Hindu and Indian American organisations from across the US met with Khanna to hand-deliver a letter expressing their serious concern over his recent actions and statements on issues relating to the Indian subcontinent and the diaspora."
On September 15, Khanna held a town hall at San Jose school in California, where at least two persons in the audience criticised his stance on Hindutva. According to indiawest. com, Khanna told the meeting: "I am proud of my faith. Hinduism, at its core, stands for pluralism and non-violence."
PM leaves for US tomorrow, No discussion on 370 at UN
Focus of Prime Minister Narendra Modi's week-long visit to the US to attend the UNGA will not be on terrorism, but on highlighting India's achievements and its global role
Apart from addressing the UNGA session, Modi's schedule includes a meeting with US President Donald Trump in New York and a diaspora event in Houston
During his stay, Modi intends to hold 20 bilateral meetings with leaders from all continents
The PM will raise several issues, such as development, climate change and other bilateral and multilateral matters "of which terrorism is one, but the focus will not be on it", said Foreign Secretary Vijay Gokhale