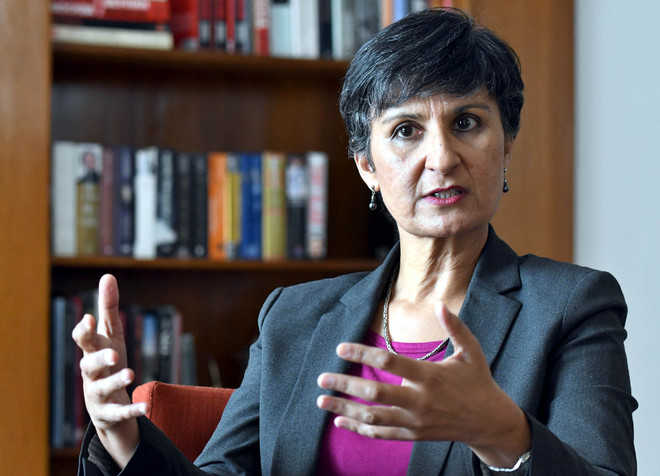 Australia recently unveiled a White Paper on its foreign policy, a first in nearly 14 years. Smita Sharma speaks to Harinder Sidhu, Australian High Commissioner to India, on a host of issues, including the quadrilateral dialogue, China's One Belt, One Road (OBOR) project, North Korean situation, temporary work visa reforms and protests against the Adani coal mine project in Queensland. Excerpts from the interview:
(Follow The Tribune on Facebook; and Twitter @thetribunechd)
How confident are you of the US investment in Indo-Pacific, given the unpredictability of the Donald Trump Administration?
The Indo-Pacific is where the largest part of future economic growth is going to go. The US has significant interests in that region. So it is a fair conclusion to say that the US will remain engaged as a matter of their national interest
What is the most significant aspect of Australia's White Paper on its foreign policy?
Times are changing. There are clear and open levels of recognition about the uncertainties in the region and it is a clear statement of where Australia's interests lie.
In terms of strategic implications, is China a threat for the region?
Things are not that black and white. Australia has benefited enormously from its economic relationship with China. Besides trade, a large number of Chinese students come to Australia. Chinese-Australians have made immense contribution to Australia, our society and our economy. So China has been a valuable partner, and I expect it will continue to be so.
The White Paper highlights an increased role for India. What are the expectations?
The White Paper is about Australia's approach to various countries. It is possibly for the first time in a major policy document like that India has been placed in such a prominent position. This is so because of the much clearer strategic alignment we now see between Australia and India. India can have profound influence in the region. We can work with India to move towards promoting the kinds of values we care about to ensure prosperity, stability and security in the world.
There were differences in the statements put out by the four partners after the recently revived the quadrilateral dialogue. How was the first round of meeting of Joint Secretaries?
Good. You may read a lot into the joint statements but bottom line is that there is significant alignment in all sorts of things we talked about, the way we look at the world and things we care about.
Barring India, all three players are allies. Will there be any expectation of India being a part of a military alliance in days to come?
Australia has is no such expectation. This is a dialogue among four like-minded countries and not more than that. It is not a road to a (military) alliance.
Key objectives of the quad seem to be to find alternative financing mechanisms and to contain China's aggressive behaviour in the region. Will it provoke China more?
There is a risk that you can read more into this than there is. Many people have ideas about what the grouping should do. We should leave it to four Joint Secretaries to chart a path forward. I would quote Alice Wells, acting Assistant Secretary of State, that 'four officials meeting in a room can hardly contain China.'
There is an India-Japan-Australia trilateral coming up at the level of Foreign Secretaries. What is on the agenda?
This is fourth trilateral among the Foreign Secretaries. We share our perspectives on current issues. North Korea will definitely be on the agenda. Our Foreign Secretary will talk to her counterparts about our foreign policy White Paper.
How does Australia view OBOR and India's objections to China-Pakistan corridor?
It is about having a balanced perspective. Australia has not signed the OBOR programme. We did not sign the declaration. We would definitely favour investment that retains the sovereignty and support of recipient countries.
Does the Adani coal mine project in Australia have the federal government's full backing?
The project has the complete support of the Australian federal government. We see this as a very good investment that brings jobs and opportunities to Australia.The project has met all environmental and other revaluations required of it and has received licensing approvals. It is true that it has become a largely politicised investment. We are a democracy and the people have a right to express their views. I am genuinely hopeful that the project will proceed.
---
'India's interests taken care of in visa reforms'
The 457 Temporary Work Visa will be replaced by March next year with the Temporary Skills Shortage Visa. There is obviously a visa path in place for Indians who wish to go to Australia to work on a temporary basis up to four years, which is what has always been. The important thing is that a majority of occupations that the Indians go for under 457 will be retained under the new system. Do not expect a dramatic change. On what do Indians need to be careful about, the High Commissioner says the English language and skills requirements are much sharper than before. There has been some tightening up to ensure there is no abuse of the visa. At the moment, 25 per cent of all 457 visas are held by Indians and nearly all of them are still eligible under the new skills and occupation list.