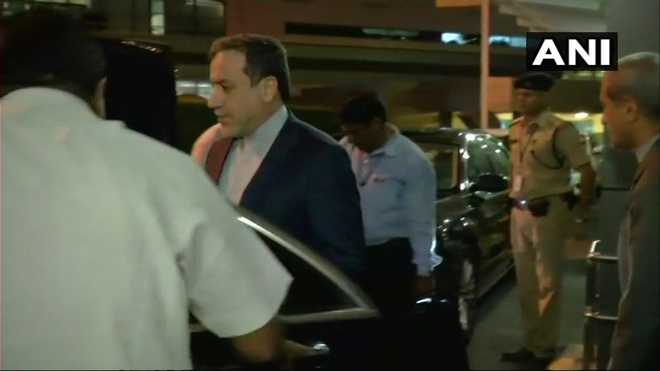 Smita Sharma
Tribune News Service
New Delhi, July 16
A day ahead of expected talks with senior US officials on first set of sanctions kicking in on August 6 for dealings with Tehran, India and Iran today held 15th round of foreign officials consultations in Delhi.
Iranian Deputy Foreign Minister Seyed Abbas Araghchi held delegation level talks with Foreign Secretary Vijay Gokhale and met with Minister of State for External Affairs M J Akbar.
India remains a top oil importer from Iran and negotiations are on to drive a 'carve out' or waivers from US for strategic dealings, including Chabahar port project. The two sides exchanged views on 'regional and international issues of mutual interest, including the efforts being made by various Parties to address issues that have arisen over the Joint Comprehensive Plan of Action (JCPOA)', said the MEA official statement.
According to sources, the Iranian delegation stressed that 'there is no sunset clause in the nuclear deal and the country's commitment to the deal is permanent- to not ever seek nuclear weapons'. Later speaking to a small group of journalists, Araghchi said, "There are many routes by which Iran and India can cooperate in important fields for both sides especially energy and Chabahar. We know that there are pressures from outside but we count on the Indian government to make proper decisions in favour of the national interest of India."
The Indian government has so far denied news reports suggesting a 16 per cent reduction in oil imports from Iran under US pressure in June. Araghchi, however, expressed concerns about upcoming purchases. "The current levels are still the same as previous months, but colleagues are talking about next month's purchases from Iran which is still an open issue," he said.
Meanwhile a US team, led by Assistant Secretary for Terrorist Financing Marshall Billingslea and including senior diplomats, energy and counter terrorism officials is likely in Delhi on Tuesday for its first official reach out since President Donald Trump withdrew from JCPOA and asked countries to reduce imports from Tehran to 'zero' else face sanctions heat.
With an unrelenting Trump administration hawkish on Tehran, the first set of sanctions targeting Iran's automotive sector, trade in gold and key metals will kick in next month and energy and petroleum sector faces heat on November 4. India has concerns about price alternates and supply source if bulk of Iranian crude oil were to be cut, and payment mechanisms, including insurance for transport mechanisms in the wake of sanctions.
Top News
Hundreds are still believed to be trapped under rubble, and ...
Chances of Parliament taking up a discussion on Motion of Th...
A Muslim man alleged he was assaulted and abused in the name...
Frank Hoogerbeets describes himself one having 'utmost respe...
Will be produced before the competent court in Mohali on Tue...