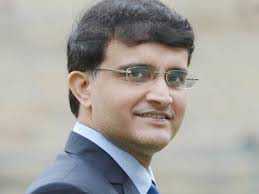 Vibha Sharma
Tribune News Service
New Delhi, October 15
Is former India captain and the new BCCI president Sourav Ganguly the BJP's plan for West Bengal where chief Amit Shah wants to unsettle TMC's Mamata Banerjee around 2021?
As far as Shah is concerned, he is pretty confident of the BJP forming the next government in the state without any help from Ganguly, whom he though welcomed into the saffron party in case the ace cricketer so wished.
While given the party's performance in the recent Lok Sabha elections (it won 18 of the 42 seats in the state), the BJP is in a rather happy place, or so insist top leaders, "but then there is no harm in having some extra-padding".
After all, state elections are contested on local issues and it would certainly not hurt having a well respected Bengali icon by its side.
Yesterday, Ganguly along with BCCI's secretary-elect Jay Shah, son of the Home Minister, and other nominated office-bearers filed nomination for the post of BCCI president unopposed. It will be a short tenure but his name would be etched in the BCCI history. The new team assumes office on October 23.
Though Shah claimed there has been no deal with Ganguly over BCCI presidentship, sources say he met the Home Minister before the jigsaw finally fell into place.
Shah yesterday said he wasn't the one to decide who will be BCCI president. He also said there has been no such deal or talks between them and "it was just badmouthing Ganguly".
Interestingly, Ganguly's known rendezvous with Shah did not stop West Bengal Chief Minister Mamata Banerjee to heap praises on him. "Heartiest congratulations to @SGanguly99 for being unanimously elected @BCCI President. Wish you all the best for your term. You have made India and #Bangla proud. We were proud of your tenure as CAB President. Looking forward to a great new innings," Banerjee wrote on her Twitter account. Given their tremendous popularity among masses, cricketers do make a safe bet for any political party like film stars. Over the years, several Indian cricketers have made their foray into politics with varying degrees of success, the latest being Gautam Gambhir who joined the BJP and won from Delhi.