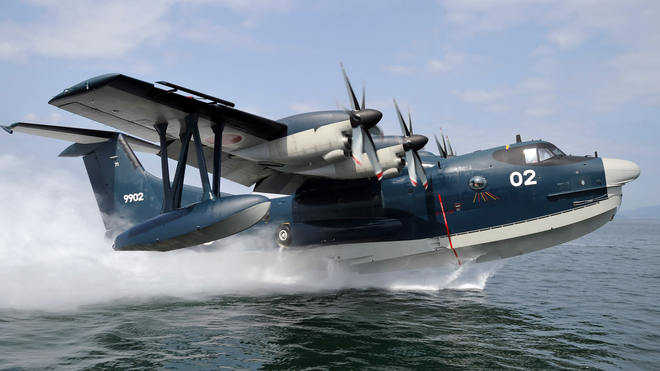 Sandeep Dikshit
Tribune News Service
New Delhi, July 9
Japan, rather than the US, is in the race to be the first country to take advantage of the Union Budget's thrust into making India an aviation hub, said sources.
Japan's aviation investment intentions in India centre around an amphibious aircraft US-2 produced by ShinMaywa company. Its appeal lies in its pitch for bagging the order — complete manufacturing of the aircraft in India, training of Indian aviation engineers and shifting of some of the company's production for Boeing and Airbus to India.
There will be clarity to the eight-year-old deal by the time President Ram Nath Kovind visits Japan in October to attend the coronation ceremony for the new Emperor. A summit meeting between PMs Narendra Modi and Abe Shinzo two months later could take the project closer to fruition.
The nub is India will have to invest close to Rs 15,000 crore in the manufacturing facility, but the Japanese have assured that exports to other countries should make up for the initial investment.
Japan is keen on stepping up its military ties and export of defence hardware to friendly countries to increase its independent security profile in view of the lack of confidence in the US security umbrella. It has already sold offshore petrol vessels to the Philippines and Indonesia and offered submarines to Australia. For India, the offer of US-2 goes beyond a simple military sale of equipment. Of the 15 US-2 aircraft, three will be wholly manufactured in Japan but the next five will be made in India with Indians as apprentices. The next six aircraft will be wholly made in India by Indian engineers.
The Union Budget's goal of building the country's aerospace business capability and infrastructure will be partly met with the Japanese company offering to make parts for Boeing and Airbus. It has promised to plough offsets into building navigational infrastructure in coastal stations where US-2 will be based. The proposal also assures an engine production facility in the country headed by Rolls Royce, which also supplies engines to C-17, C-130 and P-8i aircraft being used by the Indian Air Force. If all goes well, the Japanese also have plans to design and develop in India a 19-seater civilian aircraft.
Forces to have 15 US-2 Air-sea rescuers
US-2 aircraft is primarily for military purpose, but has disaster relief and search and rescue abilities too
In its primary configuration for India, it can take 80 troops and 2 tonne of equipment to land on sea in an arc of about 450 km
This is ideal for Indian armed forces that have to keep an eye on 1,200 islands as well as be the first responders for disaster or military crises in the Maldives, Sri Lanka, Mauritius and Seychelles