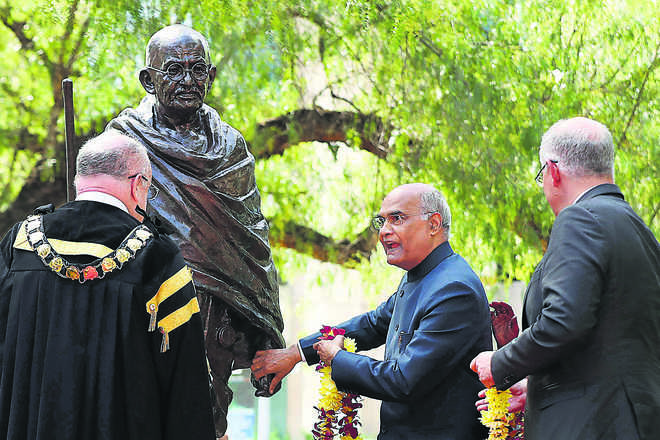 Gitanjali Sharma
Tribune News Service
Sydney, November 22
President Ram Nath Kovind on Thursday raised the pitch for fostering trade relations between India and Australia while delivering the keynote address at the daylong Australian Financial Review's 'India Business Summit' in Sydney.
"India and Australia have too much at stake to not up their game. There is enormous room for us to be together. Along with investment, bilateral trade has grown but remains below potential. We have had $27.5-billion bilateral trade but that basket must further grow," said the President, the first head of Indian state to visit the continental nation since Independence.
Taking forward the President's sentiment, Australian Prime Minister Scott Morrison talked of harnessing bilateral ties with four pillars —education, resources, agriculture and tourism — to bring India to the top tier of its investment partners. He appreciated "An India economic strategy to 2035", written by Peter N Varghese, former High Commissioner to India. Calling it a blueprint to drive investment over the next 15 years, the 446-page report is aimed at transforming Australia's relationship with India and taking the economic partnership between the two nations to a new level.
Minister for Trade, Tourism and Investment Simon Birmingham downplayed the dispute between India and Australia over sugar subsidies, saying that "WTO disputes can take place between friendly nations, but the bigger picture is of greater significance."
The WTO was there for resolving issues in a peaceful manner, and a single issue didn't have to impale other aspects of the bilateral ties. At the end of the day, he said, Australia stayed committed to developing the Indo-Pacific region, and giving a boost to the Indo-Pacific trade bloc. The WTO, incidentally, will hear the matter on November 26. A week after taking the matter to the WTO, the minister admitted that it was possible to negotiate with India to resolve the issue.
Upbeat about Peter Varghese's report, he said one of its positives was that it looked at ways to better collaborate in the future. Ideally, he said, with improved capability a point could be reached where perhaps the need to offer subsidies in a sector experiencing overproduction stood dissolved. "Our government will be supporting Peter's 10 short-term and 10 medium-to-long term priorities in principle and taking specific actions. This is a seminal piece of work that will genuinely act as a roadmap for the journey ahead in our bilateral relationship. And Australia is in it for the long haul."
The daylong business summit also saw a series of talks and panel discussions on the challenges and the ways to facilitate economic and cultural bonds between the two democracies.