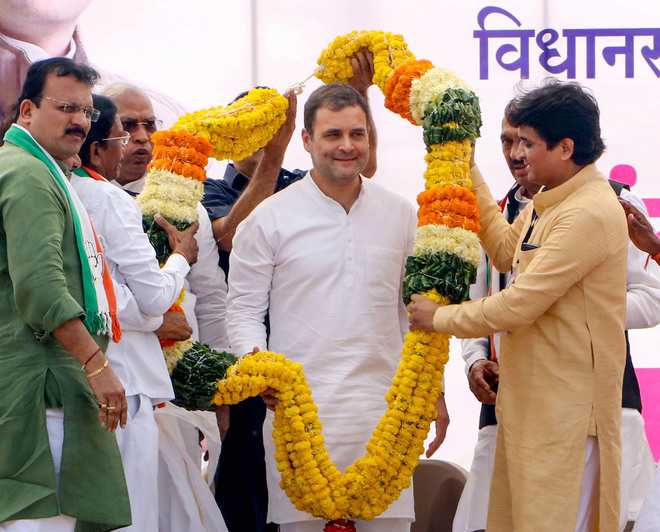 Yavatmal/Wardha, October 15
Congress leader Rahul Gandhi on Tuesday called Prime Minister Narendra Modi a "loudspeaker" of certain industrialists, and said his strategy was like that of a pickpocket who diverts attention to steal.
On campaign trail in Vidarbha for October 21 Maharashtra Assembly elections, he also targeted the Modi government for "waiving" corporate tax.
Addressing a rally in Yavatmal district, Gandhi said the Prime Minister speaks of the moon mission and abrogation of Article 370 in Jammu and Kashmir, but is silent on issues such as farmers' plight and lack of jobs.
"The Goods and Services Tax (GST) and demonetisation broke the back of small and medium enterprises, farmers, labourers and poor people. As long as the Modi government is in power, the issue of joblessness will continue to haunt the country. The problem of joblessness will grow in the next six months," he claimed.
Criticising the government's decision to "waive" (slash the rates of) corporate tax, Gandhi said such benefits were extended to certain industrialists, but not to the poor. The Congress leader also alleged that the Union government was planning to privatise national assets such as ports, coal mines, and public sector units such as Air India.
"Modi is the loudspeaker of (industrialists) Adani and Ambani. Just like a pickpocket, who diverts attention of people before stealing, his (Modi's) only job is to divert your attention so that he can pass your money to a select few industrialists," Gandhi said.
While the Mahatma Gandhi National Rural Employment Guarantee Act, Right to Food, land acquisition and laws for tribals were being amended, amendment to the GST act was not acceptable to the government, he said. —PTI