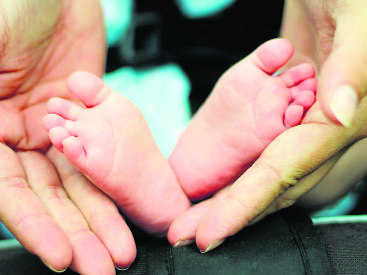 Tribune News Service
New Delhi, August 5
The Lok Sabha today passed the Surrogacy regulation Bill, 2019, that will prohibit commercial surrogacy in the country and will restrict the services for altruistic purposes only.
The Bill was passed by a voice vote after Health Minister Harsh Vardhan described it as the need of the order and a legislation that will prevent commercial exploitation of surrogates.
The Bill says only infertile married Indian couples will be permitted to engage a "close relative" as a surrogate after producing a medical certificate of infertility five years after the marriage.
Members of the LGBT community, single parents and live-in partners won't have access to surrogacy.
The Bill bars commercialisation of surrogacy services, including sale and purchase of human gametes, oocytes and human embryo, and aims to fill regulatory gaps in the sector.
Foreigners and Indian celebrities routinely engage surrogates to have babies.
The Bill puts the age of the intending couple between 23 to 50 years for the female spouse and 26 to 55 years for the male spouse on the day of medical certification of infertility. Couples wanting to have a baby through surrogacy should not have surviving biological or adopted child, but can have a mentally or physically challenged child or one that suffers from a life-threatening disorder or fatal illness.
"A surrogate mother should be married with one child. Her age should be between 25-35 years; she should be a close relative of the intending couple," the minister said, adding the "close relative" will be defined later by rules.
The Bill penalises abandonment of the baby born from surrogacy and also prescribes jail term and fine for doctors and organisations that advertise or offer commercial surrogacy.
An insurance coverage for 16 months for the surrogate mother to take care of her medical expenses has been provided in the Bill which also seeks to set up National Surrogacy Board and state surrogacy boards up for policy making.
Commercial surrogacy has been banned in New Zealand, Australia, Japan, China, Mexico, UK, Philippines, South Africa, Canada, Netherlands, Spain, Switzerland, Sweden, France, Germany and most of the European countries.
---
Prescribes jail term, fine for guilty
Only infertile married Indian couples will be permitted to engage a "close relative" as a surrogate after producing a medical certificate of infertility five years after the marriage
The Bill bars commercialisation of surrogacy services, including sale and purchase of human gametes, oocytes and human embryo, and aims to fill regulatory gaps in the sector
It penalises abandonment of the baby born from surrogacy and also prescribes jail term and fine for doctors and organisations that advertise or offer commercial surrogacy