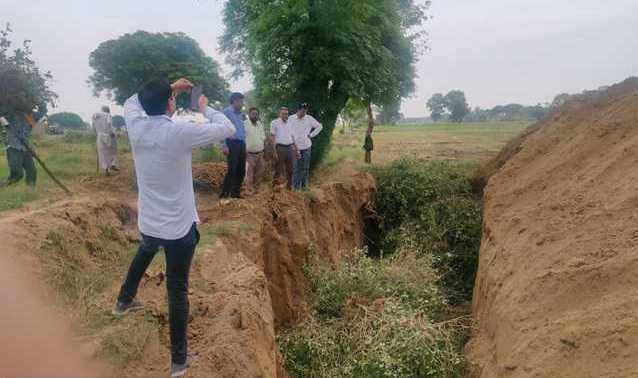 Shiv Kumar
Tribune News Service
Mumbai, June 9
Shetkari Sanghatana, a farmers' organisation from Maharashtra, has announced that it would be holding a satyagraha on Monday by planting banned varieties of genetically-modified (GM) cotton and brinjal.
Calling it a farmers' satyagraha, Anil Ghanwat, president of Shetkari Sanghatana, said in a statement here that 5,000 farmers will break the law banning GM crops by planting these varieties at a plot at Akoli Jahangir village in Maharashtra's Akola district.
He condemned the action by the Haryana government on farmers for cultivating genetically-modified brinjal.
"The farmers who are members of Shetkari Sanghatana will plant herbicide tolerant Bt Cotton and Bt Brinjal seeds in a 1-acre plot at the Akoli Jahangir village," Ghanwat said.
Under the law, anyone possessing or sowing banned seeds of genetically-modified crops can be fined Rs 1 lakh and sent to jail for five years.
However, Shetkari Sanghatana activists say they are willing to risk jail for planting the crops, which they say promise them better yields and remunerative prices. "If we are arrested we will go to jail peacefully. It is a satyagraha, so we won't resort to violence," Ghanwat said.
Over the past year, the Sanghatana has been mobilising farmers via social media for the right to cultivate GM crops in India.
The satyagraha comes after a crackdown by the Haryana government on farmers who cultivated GM brinjal.
According to the Sanghatana, the Union Government had first cleared cultivation of Bt brinjal in 2009 but the move was reversed by then Environment Minister Jairam Ramesh.
The Sanghatana alleges that the Narendra Modi government which took charge in 2014 did not overturn the ban despite petitions filed by it.
The Sanghatana said its members have procured the GM seeds despite it being illegal. Ghanwat says the banned varieties of seeds are already being planted by farmers across the country.
"After Akola we will soon take the satyagraha to other parts of
Maharashtra during the current monsoon season," Ghanwat added.
Top Stories