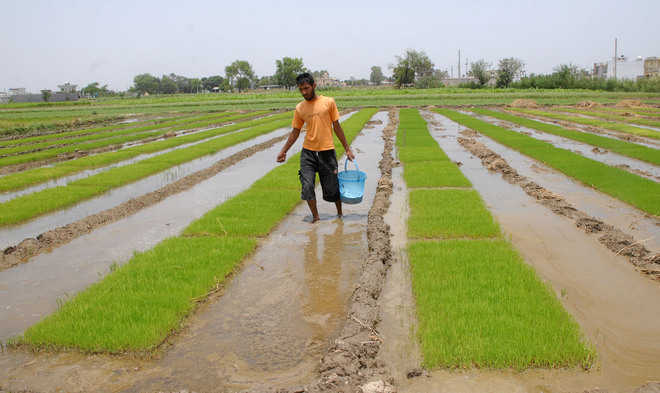 Shiv Kumar
Tribune News Service
Mumbai, June 25
Egged on by various environmental groups and the Bharatiya Kisan Sangh, the farmers' wing of the RSS, the Devendra Fadnavis government has begun a crackdown on farmers who planted banned Genetically Modified seeds as part of a satyagraha earlier this month.
According to sources, the authorities have seized stocks of seeds from farmers affiliated to the Shetkari Sanghatana across Maharashtra. "We have sent the seeds for testing and should these seeds are found to be of the banned variety action will be taken against the farmers, a home department official said.
Already the police have arrested one farmer Vasant Mule, from Umrad village in Buldana district, after officials suspected that stocks of cotton seeds found in his possession could be of the banned Herbicide Tolerant Bio-technology (HTBt) variety. "He was produced before a local court which rejected his bail plea. Mule has been sent to
judicial custody on Monday," a state government official confirmed here on Tuesday.
The seeds have been sent for testing and if found to be of the banned variety, more stringent provisions will be applied against Mule, police said.
According to police Mule had in his possession 21 packets of the banned HTBt Cotton seeds which he planned to plant in his 23 acre farm.
Meanwhile, the Shetkari Sanghatana said Mule had not participated in the GM Satyagraha organized by it earlier this month in Akoli village in Akola district. "Many farmers on their own are planting the HTBt Cotton because it gives higher yield," Anil Ghanwat, president, Shetkari Sanghatana said. He added that the organization was providing legal help to Mule and would support any farmer who was arrested for planting the banned GM seeds.
The Sanghatana said farmers in more districts in Maharashtra are coming out to plant the banned HTBt cotton. The organization claimed they have planted the banned variety of cottong seeds in ten districts- Ahmednagar, Amravati, Buldhana, Dhule, Hingoli, Jalna, Jalgaon, Parbhani, Wardha and Yavatmal over the weekend. In some places the women's wing of the Sanghatana took the initiative to do the planting, according to Ghanwat.
The 'GM Satyagraha' has drawn opposition from environmental groups and the Bharatiya Kisan Sangh. The BKS accused international seed companies of mobilizing the seed companies to carry out illegalities and called for a stricter crackdown. "They mobilise some farmers through their illegal fraudulent means and cultivating these illegal seeds challenging the legal agencies openly," Badri Narayan Chaudhary, All India General Secretary, Bharatiya Kisan Sangh said in a statement.