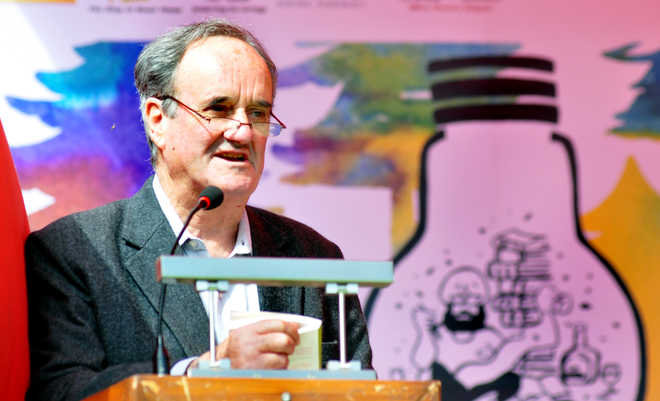 New Delhi, November 12
Good, bad or ugly, nostalgia captivates. So it's no surprise that author-journalist Mark Tully's latest offering, a collection of stories culled from memory and travel, catches your attention.
"Upcountry Tales: Once Upon a Time in the Heart of India" is set in tumultuous times. The then prime minister, Rajiv Gandhi, had taken over the reins of the country following the assassination of his mother Indira Gandhi.
Along with political turmoil and social upheaval, the first green shoots of economic reform were sprouting. New 100 CC bikes were edging out old scooters and Maruti Suzuki cars were overtaking Ambassadors on India's potholed roads.
The old India hand, a long-time correspondent of the BBC, had seen the changes taking shape during his travels in north India. And this is the India that forms the backdrop for the stories, which are part fact, part fable.
"The Battle for a Temple" is the story of Dalit awakening: protagonist Budh Ram, a diminutive Dalit farm labourer, ousted from his home by his sons, wants to build a Ravi Das temple for his community.
And in the face of fierce opposition by the upper caste people and his own community's doubts over his ability to achieve the feat, he ends up successfully leading a movement to build the temple by sheer dint of his devotion to his dream.
"Murder in Milanpur" is about the killing of a politically influential Thakur in a sleepy hamlet of eastern Uttar Pradesh. The story brings to mind Munshi Premchand's "Namak Ka Daroga".
A bit like Munshi Vanshidhar, Tully's protagonist Prem Lal secures the job of a police sub inspector under pressure from his worldly-wise father.
The story of an honest police officer working out a murder case and the dubious investigation of the politically sensitive case by the CID is a familiar story, but carries the freshness of a cool morning breeze.
Tully's "Ploughman's Lament" captures a slice of rural India, while "The Family Business" is about a six-time MP's son Suresh Srivastava, who miserably fails to capitalise on his political lineage.
Of all the stories, "Slow Train to Santnagar" is possibly the most interesting, encapsulating drama, emotion, humour and political machinations.
An unscrupulous politician seeks to get a train service on a meter-gauge in Punjab scrapped to prop his rickety private bus service business in the area.
The story develops through a popular agitation to save the train service and eventually culminates in a hilarious bus versus train race to resolve the tangle at the advice of a local seer.
The introduction to the book, published by Speaking Tiger, is like a story in itself, with interesting tidbits about Tully's encounters with the high-and-mighty, including several prime ministers from Indira Gandhi to Manmohan Singh.
In one such encounter, former prime minister Charan Singh shares his frustration with Tully about his inability to tame errant sections of the Delhi Police.
"When I was the chief minister (of undivided UP), I could punish an officer by transferring him to the hottest place in Bundelkhand or the coldest, most remote place in Kumaon. In Delhi, I can transfer someone from Chanakyapuri to Daryaganj," Singh had confided to Tully.
If Premchand's works carried both the fragrance and stench of pre-Independence rural India, Tully's stories make an ironical revelation of that stench persisting in modern India more than 35 years after Independence, leaving the reader wondering if in Tully, we have an 'angrej Premchand' among us.
For older readers, the book is a memory jogger. For younger readers, it may well read like a collection of stories from contemporary times. — PTI