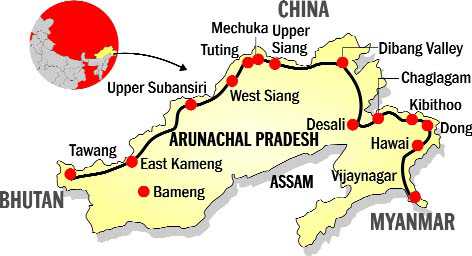 Ajay Banerjee
Tribune News Service
New Delhi, August 4
The Ministry of Defence has approved a strategically vital 2000-km highway that connects the western and eastern extremities of Arunachal Pradesh — Tawang to Vijaynagar — after incorporating the Army's views on the alignment of the road that is proposed to run all along the McMohan Line, the defacto border with China in the state.
The road was proposed by the Arunachal Government to seek better connectivity between remote valleys separated by highly inaccessible mountains. The Director General of Military Operations of the Army had objected to the road's proposed alignment as it was running too close to the disputed sections of the McMohan Line.
(Follow The Tribune on Facebook; and Twitter @thetribunechd)
The Army had asked for fresh alignment as the area has very little population and sustaining the safety and civilian traffic would end up being the responsibility of the armed forces. Also, the road could be used by insurgents to slip-in and out of the country. There is no boundary marked on the ground, perception on the exact alignment of the McMohan Line vary by a few miles on either side in India and China.
Defence Minister Manohar Parrikar recently informed the Rajya Sabha in a written reply: "Based on operational requirement of the Army, proposal for construction of Tawang to Vijaynagar highway has been endorsed with a few changes in its alignment."
The road is planned between Mago-Thingbu in Tawang to Vijaynagar in Changlang district of Arunachal. The proposed highway will pass through Tawang, East Kameng, Upper Subansiri, West Siang, Upper Siang, Dibang Valley, Desali, Chaglagam, Kibithoo, Dong, Hawai and Vijaynagar on the Arunachal Pradesh border. The government has already relaxed environmental clearances for border area projects.
China disputes India's control over the Northeastern state. The two countries have an undemarcated 3,488 km Line of Actual Control (LAC), the McMohan line (named after British Foreign Secretary Sir Henry McMohan) is part of the LAC. In the past, China had objected to constructing infrastructure in the border areas.
A concept paper with provision for consultancy services to cost Rs63 crore has already been submitted to the Ministry of Road Transport and Highway. An empowered committee has been holding consultations with all stake holders.