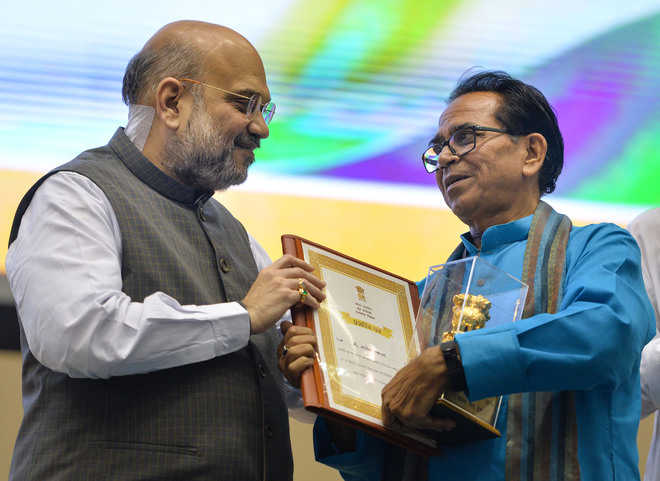 Vibha Sharma
Tribune News Service
New Delhi, September 15
The Narendra Modi government, it seems, has plans that go much beyond what is currently being debated in the public domain after Home Minister Amit Shah's latest pitch for Hindi language.
Sources indicate that Shah may have hinted at what could be just one part of the government's larger plan for "real" integration of the country, and this goes beyond the draft National Education Policy that seeks promotion of classical and regional languages and the "three-language formula".
Apparently, it is also planning "sister" alliances between Hindi and non-Hindi states in the country. So, while a child in a non-Hindi speaking state will be learning Hindi in school, a child in a Hindi-speaking "sister" state can be learning a regional language — Kannada, Malayalam, Tamil, Telugu, Marathi, Bengali, Assamese and Kashmiri — depending upon the alliance.
The push for having one common language in India to connect and unite the country triggered a row with the Opposition saying the three-language formula should not be tinkered with as it would "create strife and unrest".
In a series of tweets in Hindi before a function to mark Hindi "Diwas", the Home Minister asked everyone to use their native languages as much as possible, but said efforts would be made to expand Hindi's reach to different parts of the country. Though it was reiteration of the Centre's 'three-language' formula, it set off a storm in Tamil Nadu which adheres to a 'two-language' formula. The Kothari Commission in 1964 had advocated that students from north India should study one language from South India and vice versa.
It's a war cry: Vijayan
Slamming Home Minister Amit Shah for his Hindi language pitch, Kerala CM Pinarayi Vijayan on Sunday said it was a 'planned attempt' to stir up a controversy and divert attention from pressing problems in the country
Vijayan said the notion that Hindi could unite the country was 'absurd' and the move was a 'war cry' against those loving their mother tongue
The claim that Hindi unifies our country is absurd. That language is not the mother tongue of a majority of Indians, the CM said. — PTI