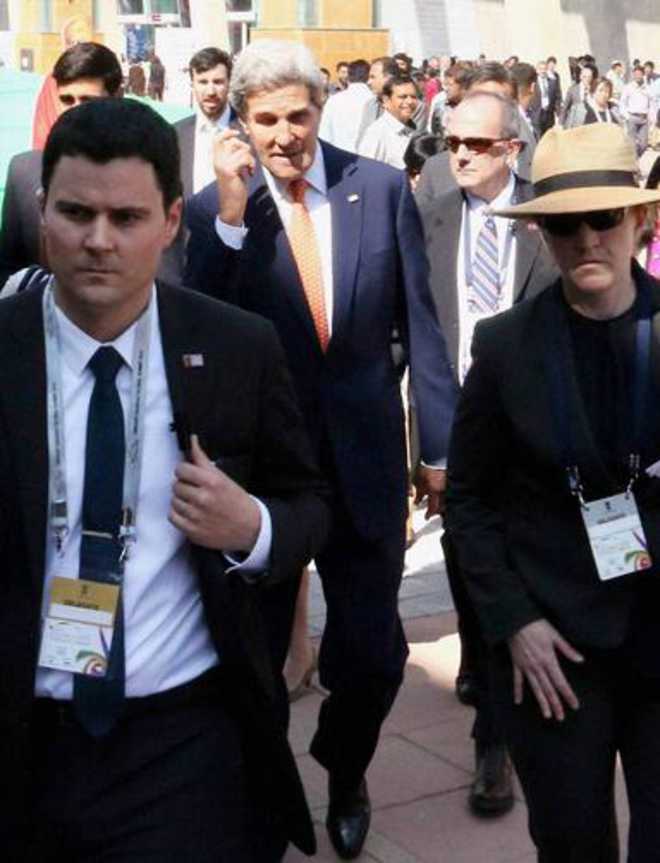 Manas Dasgupta
Gandhinagar, January 12
United States Secretary of State John Kerry has indicated a possible breakthrough in the US assistance to India on civil nuclear programme during US President Barrack Obama's visit to the country. Obama has accepted Prime Minister Narendra Modi's invitation to be the chief guest on Republic Day.
"The civil nuclear deal will be one of the four specific areas we are going to try to make some progress during Obama's visit to India," Kerry told mediapersons before leaving Gandhinagar.
The other three areas of focus he named were renewable energy and climate change co-operation agreement, defence productions and the economic partnership. He said when he met Modi on Sunday evening after the inaugural ceremony of the Vibrant summit, he had discussed with him Obama's visit and the "bilateral issues" expected to figure during the talks between the two leaders.
Kerry said India and the US were strengthening their relationship and would continue to do so by creating a healthier, more secure and prosperous future to be able to impact policies that affect the world.
He pointed out that India and the US had also joined hands to safeguard maritime security, freedom of navigation and overflight throughout the region as well as work towards fighting terrorism, piracy and proliferation of weapons of mass destruction.
"I am convinced that India and the US will create a healthier and more secure and prosperous future not just for one another but for the entire world," Kerry said.
On climate change issues, Kerry said the US "is committed to working with India to reach a landmark climate change agreement" at the climate change conference in Paris this year.
The two countries were also likely to sign the renewed 10-year defence strategic framework and start talks on an economic cooperation with a Bilateral Investment Treaty.
Top Stories