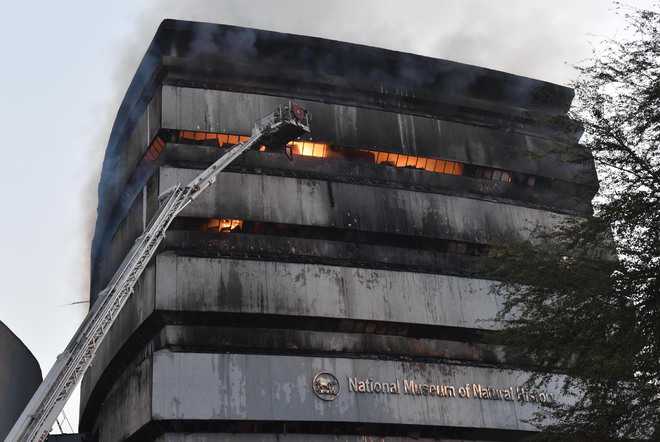 Vibha Sharma
Tribune News Service
New Delhi, April 26
A massive fire broke out at the National Museum of Natural History (NMNH) here this morning, gutting its priceless collection, including fossils.
Thirty five fire tenders battled for about four hours to douse the flames that broke out at 1.45 am on the top floor of the museum. Six firemen were rushed to hospital after they inhaled excessive smoke during the operation. Their condition is said to be stable. The police said the cause of the fire was yet to be ascertained.
The incident has put a question mark over fire safety arrangements at similar establishments across the country.
As reports of inadequate and inoperative fire-fighting equipment in the building housing invaluable pieces of heritage and history started doing the rounds, Environment Minister Prakash Javadekar said he had ordered energy and fire audit of all museums under his ministry across the country.
According to officials, the Centre has asked all establishments to undergo a fire-safety review. "We have 34 museums. We will take care that such incidents do not happen," Javadekar said. He said the incident was "unfortunate" and "tragic" that caused a loss which could not be ascertained in terms of money.
"It is unfortunate...Museum of Natural History is a national heritage. Thousands of exhibits were there and thousands of people visit the museum every day," he said. Meanwhile, officials are ascertaining the extent of the damage and the ways to restore the museum.
The museum was operating from a FICCI property, a fact that was pointed repeatedly by Javadekar in response to queries about the inadequate and dysfunctional fire safety equipment at the site. "This is a rented property. It is not the ministry's property, but a FICCI property. Therefore, we have limitations. The issue is that this is a real loss and we will assess the loss when the building is again handed over to us. We will see how the recovery plan can be made," he said.
However, ex-Environment Minister Jairam Ramesh, who also visited the site, was quick to point his misgivings regarding the location of the museum and also the state of fire safety affairs in most government buildings, including the high-security Parliament House. He said as the minister, he offered the museum land near the Delhi zoo and later at Noida for re-location.
"While I was the Minister of Environment, I used to come here frequently. In fact, I had got land for them next to the zoo. About six acres I had got for them between Pragati Maidan and the zoo so that they can be relocated. This is not the right location for the museum. But for some reason, the relocation has not taken place. Later on, I offered them land in Noida. This museum requires more space," he said.