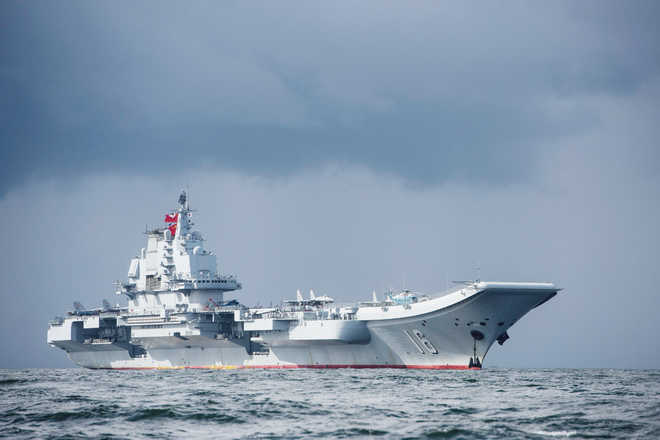 Ajay Banerjee
Tribune News Service
New Delhi, January 19
Faced with a growing challenge of China's new aircraft carriers, the Indian Navy is planning the delivery of upcoming indigenous carrier INS Vikrant by October 2020. This will almost coincide with China's slated commissioning of its own-built carrier, so far know as "CV-17 001A".
With this, both countries will have two carriers by 2020, but India will still have the upper hand given the sheer experience of having operated fighter jets from the deck of carrier for more than 50 years. China, on the other hand, started operating a carrier — the Liaoning — in late 2016. India's carrier INS Vikramaditya is fully operational. A tableau of INS Vikrant will be part of the Republic Day Parade down the Rajpath on January 26. Navy officials briefing the media said trials of the carrier will commence by the end of this year.
"The carrier will be ready in 2020," said a senior Navy official. When asked that the Comptroller and Auditor General, in its report in July last year, had said the carrier may not be commissioned till 2023, the official said: "That is the CAG's assessment, not ours." "When we say delivery, we will be ready in all respects," he asserted.
The Navy has come under scrutiny by the CAG for repeated delays in the construction of the first indigenous aircraft carrier in Kochi, saying: "It is evident from the PERT chart (September 2014) of Cochin Shipyard Ltd. that the delivery of the carrier with completion of all activities is likely to be achieved only by 2023."
China's second aircraft carrier "CV-17 001A" floated out in August 2017 and is expected to be commissioned in 2020.
India, China and Japan are seen part of the "Asian aircraft carrier race". The Liaoning, was purchased from Ukraine after the fall of the Soviet Union. This meant India, Japan and China now have a "flat deck" that can carry fighter jets which can further hit target at sea or land.
As of now, India is the leader with 50 years of experience in operating sea-borne aircraft carriers.
Top News
Wearing of masks must in all educational institutions, gover...
Media report says initial assessment indicates 24-year-old m...
According to Rushdie's agent Andrew Wylie, nerves in his arm...
The exercise is scheduled to be held at Manesar in Haryana i...
State government issues notification, move expected to save ...