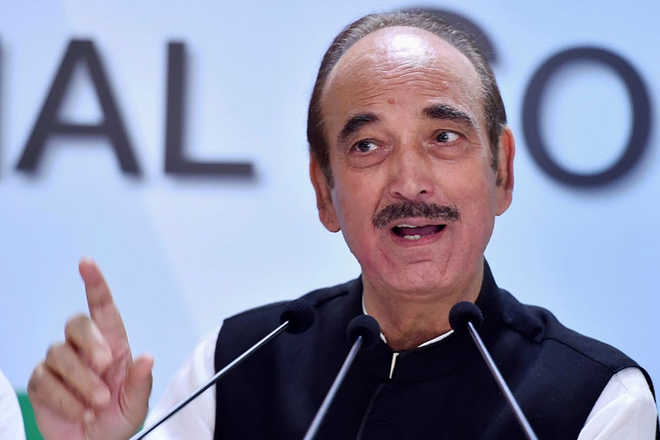 Aditi Tandon
Tribune News Service
New Delhi, September 15
On the eve of elections in Haryana, Maharashtra and Jharkhand, the Congress today changed its previously rigid tack on the abrogation of Article 370 in J&K and said the issue was over and the matter well beyond the remit of political parties now.
Former J&K CM and party general secretary in-charge of Haryana Ghulam Nabi Azad, who all along led the party's offensive on Article 370, today said opposition to the move was now immaterial and Article 370 abrogation and removal of special provisions in J&K were law of the land.
Answering a question on the varied stand from Congress that Haryana CLP Leader Bhupinder Singh Hooda took on Article 370, Azad said, "A law has been made. The issue is out of the political ambit now. It's no longer in the realm of political parties."
Azad, who today filed a petition in the Supreme Court seeking permission to travel to his home state of J&K and review the prevailing social conditions there, said, "My petition has nothing to do with Article 370 either. It is a personal petition, not the petition of the Congress. As an MP from J&K and a native of that state, I have moved the SC for permission to go there and have flagged the condition of labourers working in the state who need to earn daily wages to eat and live. No one is thinking about them."
Azad deflected the question on Hooda and his son Deepender taking a diametrically opposite stand on Article 370 as compared to the Congress.
Hooda had, in his August 18 rally in Rohtak, gone to the extent of saying the Congress had lost its way and that he would personally never compromise on issues of patriotism and national interest.
Several Congress leaders supported the BJP Government on Article 370. Amid growing realisation now that continued resistance to the removal of special provisions to J&K could hamper party's electoral chances in poll-bound states, Azad today said, "The matter is now before the Supreme Court, which is hearing multiple petitions. The matter is not in the hands of political parties. That stage is over. The issue of political parties taking stands for and against Article 370 does not matter now. It's irrelevant."
The BJP will make the abrogation of Article 370 a major poll plank in all poll-bound states.
Speaking to The Tribune on the issue, Haryana Congress president Kumari Selja said, "Article 370 is history now and the issue is over. Let's leave it behind and move ahead. Let us speak of jobs for the youth of Haryana and the country." Azad later said his petition in the SC was "apolitical" and he will tomorrow argue on the petition to seek court permission to travel to his home state.
Azad moves court for permission to visit J&K
Cong leader Ghulam Nabi Azad on Sunday moved a petition in the SC to seek court's permission to travel to J&K
The petition is listed for hearing on Monday
Azad said, "My petition has nothing to do with Art 370. It is a personal petition."
Top Stories