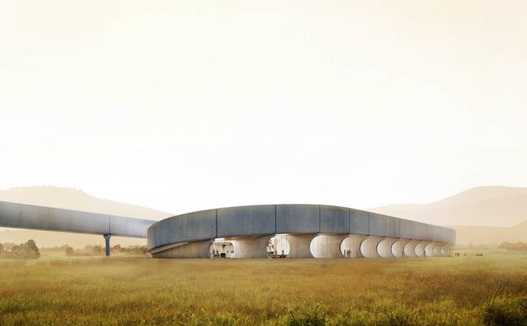 Shiv Kumar
Tribune News Service
Mumbai, September 19
Work on the test track for the Virgin Hyperloop between Mumbai and Pune is set to begin soon with the Maharashtra government expected to clear the Request for Proposal (RFP) shortly, according to state government sources.
The Maharashtra government had earlier this year cleared a proposal to set up the nearly 15-kms long test track between Kiwale and Urse along the Mumbai-Pune Expressway.
It also earmarked Rs 300 crore and got the students and faculty of IIT-Bombay to participate in the project.
According to state government sources, work on construction of the test track for the hyperloop will begin shortly after the RFP is cleared.
"We have set a deadline of 2021 for the test track to be completed as per the specifications of the company building the Hyperloop," a state government official said.
Hyperloop Technologies, originally promoted by British entrepreneur Richard Branson and DP World are behind the venture in India.
The Maharashtra government has already appointed the Pune Metropolitan Region Development Authority (PMRDA) as the nodal agency for developing the hyperloop project.
Officials say, construction of the test track should proceed smoothly since land for it has already been identified. Once tests on the prototype of Hyperloop are satisfactorily completed, it would provide a new mode of transport between Mumbai and Pune.
It has already been given the status of a public infrastructure project and funding is likely to be available from various sources including international organisations, according to officials here.
Meanwhile, a study conducted by the companies behind the Hyperloop project and KPMG claimed that it would increase Maharashtra's GDP by 2.6 percent.
"Over its lifetime, the project will create over USD 36 billion in socioeconomic benefits, resulting in a 2.6 percent increase in the state's gross domestic product, and create new hyperloop components and manufacturing opportunities in the state to supply projects elsewhere in the country, and also to export," a statement issued by the companies said here earlier this week.
The study claimed that 1.8 million jobs would be created between Mumbai and Pune following the implementation of the project.
The Mumbai-Pune Hyperloop Project would create about 1.8 million direct and indirect jobs and $36 billion in socioeconomic benefits in the region. Learn more here: https://t.co/pCoouz5MZ8 pic.twitter.com/PkEmD60ED5

— Virgin Hyperloop One (@HyperloopOne) September 18, 2019
The Pune-Mumbai Hyperloop Project is well on its way to becoming the first of its kind transit option, creating new economic opportunities for hundreds of millions of Maharashtra residents. But that's just the beginning. https://t.co/pCoouz5MZ8 pic.twitter.com/JEt5pXf4fQ

— Virgin Hyperloop One (@HyperloopOne) September 18, 2019
Top Stories