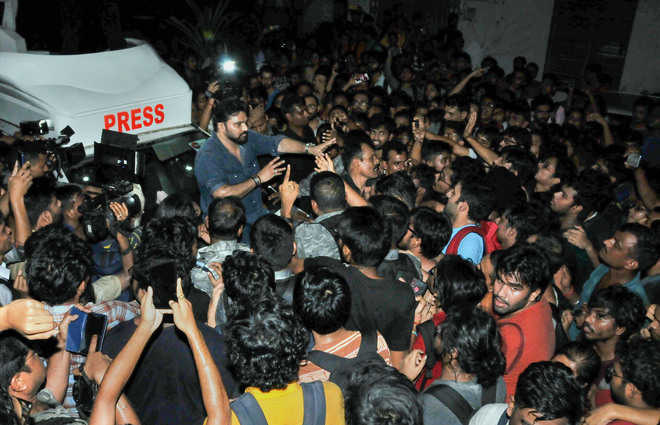 Kolkata, September 19
Union Minister Babul Supriyo was on Thursday shown black flags and heckled by a section of students at Jadavpur University, who also stopped him from leaving the campus, prompting West Bengal Governor Jagdeep Dhankhar to rush to the university along with a large police force.
The Governor, who is the chancellor of the university, too faced demonstrations by the students belonging to SFI, Left leaning AFSU and FETSU and AISA, and a few members of the TMC.
Dhankhar and Babul Supriyo finally left the campus late in the evening hours after university teachers stepped in and persuaded the agitating students to lift their blockade.
The trouble began when Babul Supriyo went to JU at around 2.30 pm to address the seminar by ABVP, the students wing of the RSS, inside the campus. AFSU leader Debraj Debnath, who participated in the protest, asserted that "fascist forces" will not be allowed on the campus.
"I am saddened at the absolutely deplorable behaviour of some of the students of the university — the way they have heckled me... They pulled my hair and also pushed me," Supriyo said. — PTI