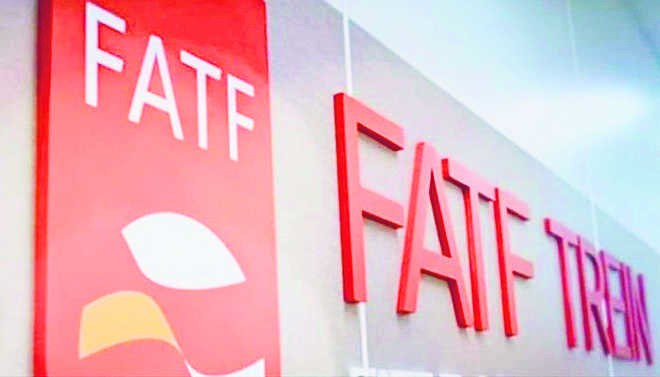 Sandeep Dikshit
Tribune News Service
New Delhi, October 18
Pakistan today managed to ward off relegation to a global blacklist for its continued inability to combat money-laundering and terror-financing. Though the anti-terrorist financing watchdog, the Financial Action Task Force (FATF), retained it on the grey list, along with 11 more countries, its misdemeanours were grave enough to merit a four-month grace period that will end in February next year. The FATF plenary in Paris gave Pakistan time till February to implement all action points to check money-laundering and terror-financing though it acknowledged that there had been some signs of visible progress to reduce terror-financing risks.
Among other jurisdictions with strategic deficiencies on the grey list were Sri Lanka, Mongolia, Iceland, Ghana, Syria, Yemen and Zimbabwe.
Sri Lanka, Ethiopia and Tunisia were excluded from the group that required monitoring in which Pakistan's indictment was the most severe. A compliance report submitted to the FATF just before the plenary had ended any eventuality of Pakistan returning to the financial mainstream. But there was great interest whether India would manage to push it on the blacklist that currently has Iran and North Korea.
Pakistan PM Imran Khan had recently accused India of conspiring to trap his country at a time when he was trying to build bridges with PM Narendra Modi. National Security Adviser Ajit Doval had on Tuesday said the biggest pressure on Pakistan to check terror-financing was due to the proceedings at the FATF.
Recent changes had meant that Pakistan had a more favourable playing field at the FATF plenary this year. China had become chairman and close friend Saudi Arabia recently joined the body. India's spat with Malaysia and Turkey over Kashmir had made it a foregone conclusion that they would be among the minimum of three countries required at the FATF to block
an adverse outcome
for Pakistan.
"The FATF strongly urges Pakistan to swiftly complete its full action plan by February 2020. Otherwise, should significant and sustainable progress not be made across the full range of its action plan by the next plenary, the FATF will take action,'' read a statement.
"Since June 2018, when Pakistan made a high-level political commitment to work with the FATF and the Asia-Pacific Group (APG) to strengthen its anti-money laundering and counter terror-financing regime..., Pakistan has made progress...," it added.
---
It Was on expected lines
India's spat with Malaysia and Turkey over Kashmir had made it a foregone conclusion that they would be among the minimum of three countries required at FATF to block an adverse outcome for Pakistan
Top Stories