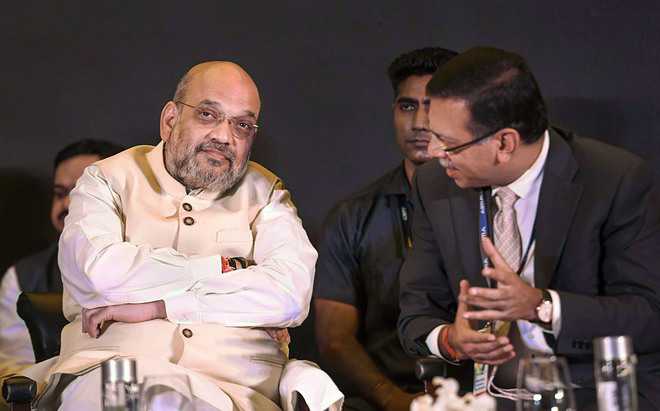 Tribune News Service
New Delhi, September 17
Stressing on the Narendra Modi government's focus on national security and territorial integrity, Union Home Minister Amit Shah today said any act of breach on the two counts would be dealt with sternly.
Noting that neither a single bullet has been fired nor a person died since the special status to J&K was scrapped, Shah said, "There will be no compromise on India's security. We will not tolerate even an inch of breach of our territory." The decision on J&K was a significant step towards the motto of "Akhand Bharat (united India)", he asserted.
Speaking at a function organised here by the All-India Management Association (AIMA), Shah came down heavily on the Congress claiming that a decade's rule of the party completely failed to adopt a comprehensive national security policy.
Claiming that the period of the Congress rule was marked by "chaos all over", Shah said, "Now the situation is different, as no decision is taken to appease anyone, but with a view of larger well-being of people. This is the reason why eight countries have given highest civilian awards to the Prime Minister."
Talking about the reform initiatives taken by the government, Shah said there might be some initial problems, but such difficulties would be over soon.
"The government, which is not run by bureaucrats, but by political executive, is sensitive and looking into the difficulties being faced by businessmen," he said, suggesting industry bodies to devote more energy for research and development initiatives.
After the surgical strike and airstrike, the perception of the world has changed and India's strength has been recognised globally. — Amit Shah, union home minister