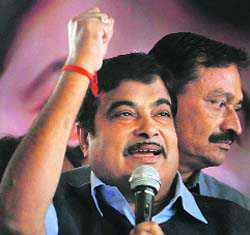 New Delhi, May 19
Union Minister Nitin Gadkari today ruled out going back on the land Bill, but said the government was open to incorporating more amendments that were in the interest of farmers.
Government's key pointsman with other parties on the Bill, Gadkari alleged the Congress was opposing it for political reasons as part of its agenda to spread disinformation against the government.
"There is no question of going back on the Bill... Whatever is in the interests of the nation will be done forcefully," the Road Transport Minister said.
Gadkari said the government had been speaking to opposition parties to get their support in the Rajya Sabha where the NDA lacked in numbers, and noted the BJD's decision to support the Bill. He was asked how the government would cobble up numbers in Rajya Sabha for the passage of the Bill.
To a question if the government was willing to bring in more amendments to accommodate the Opposition, he noted that nine of them had already been brought in and the government was open to "good" suggestions. "If the amendments are good, then Prime Minister Narendra (Modi), our government will (accept)," he said.
Gadkari, however, made it clear that the government was committed to pressing ahead with the legislation in Parliament irrespective of the stand of the opposition parties. "The BJD has come out in our support on the Bill. We were accused of being arrogant, now we are going to everybody with folded hands... If they come, it is good; if they oppose we will continue to move forward," he said.
To another query on reservation expressed by BJP allies Shiv Sena and Swabhiman Paksha, Gadkari said each one had his own axe to grind and used a Hindi proverb, "looking somewhere, targeting something else".
Succumbing to the Opposition pressure, the government has sent the contentious Bill to a joint committee of Parliament, which is scheduled to submit its report in the beginning of the monsoon session. The government has promulgated the land ordinance twice so far in the absence of parliamentary nod.
Gadkari equated opposition of Congress to the land Bill with its campaign of "fear-mongering" among minorities against the BJP, saying it was doing for political reasons even though ground situation was far different. — PTI
Top News
Writes to Mohit Rajan, Deputy Secretary in the MS Branch of ...
The quantum of punishment will be pronounced by the court la...
Amritpal's counsel on the other hand contended that he was i...
During the intervening night of March 27-28, BSF troops dete...
Sukhwinder Singh ran a finance business in Manila for the pa...