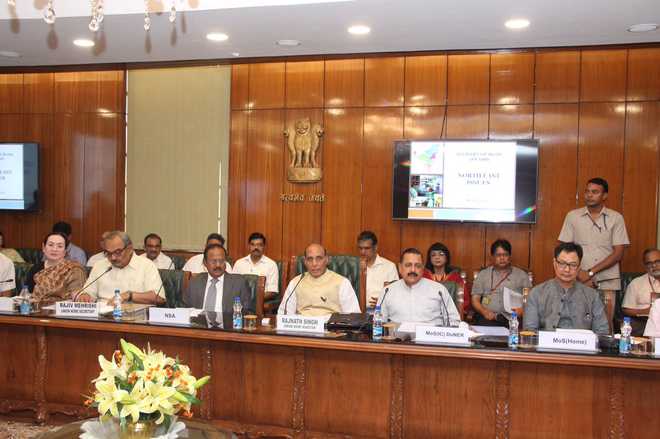 Mukesh Ranjan
Tribune News Service
New Delhi, May 16
Noting that the overall security scenario in North Eastern states has significantly improved with the help of neighbouring countries, particularly Bangladesh, Union Home Minister Rajnath Singh, while chairing a North-East review meeting, said that now the need of the hour is to improve "normal policing" and state governments should focus on orienting the police force towards "normal functioning".
The meeting, which was attended by the top security brass, including Minister of State for Development of North-East Region (IC) Jitendra Singh, Minister of State for Home Kiren Rijiju, National Security Adviser Ajit Doval besides other senior officials of the Centre and state governments, reviewed both developmental and security measures undertaken so far and also made an assessment on what more needed to be done.
The Home Minister noted that the initiatives taken by the Centre in sectors like road, rail, aviation, power and digital infrastructure, along with initiatives in the field of human resource development, had given good results in the region. "These gains as part of our Act East Policy will open doors of South East Asian market for the region," he said.
"Organised militancy in the region is on the decline. However, a few incidents of violence are reported, but they are isolated and limited to crimes like extortion and kidnapping in the name of insurgency. Now police needs to be re-oriented towards its normal functioning of preventing and detecting crimes, which took a heavy toll in the past one decade," Singh said.
Highlighting the poor rate of persecution in one of the north-eastern states "to 5 per cent in comparison to the national average of 86 percent", the Home Minister argued that when a criminal is "not booked under the law", the common man loses faith in justice system. "Under the situation, the legitimacy of the state is also undermined and crime and criminality get incentivised," he added.