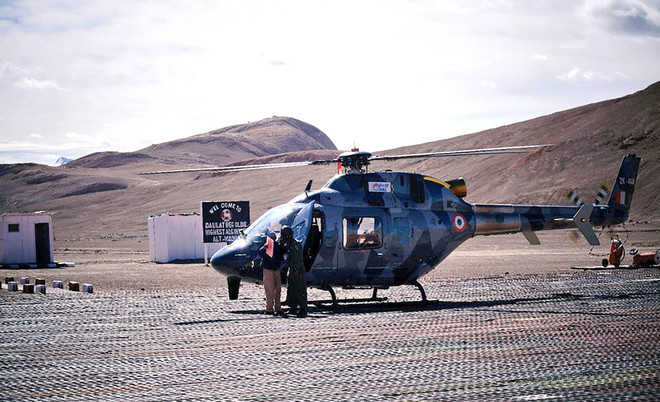 Tribune News Service
New Delhi, August 31
The light-utility helicopter (LUH), produced by Hindustan Aeronautics Limited, has undertaken a flight at 18,000 feet and landed at Daulat Baig Oldie (DBO), the highest-landing ground in northern Ladakh at an altitude of 16,890 feet.
The single-engine copter, in its final stages of development, had undertaken a winter flight at 20,000 feet. The flight to the DBO, landing there and then taking off was part of its summer trials.
The rarity of air at higher altitudes puts pressure on copter engines. Summers are tougher than winter conditions for copter flying hence, the trial was carried out in 'peak summer'. The certification of the copter has been done and the flight to northern Ladakh was a success, sources in HAL said.
The successful flight makes the copter 'Siachen worthy'— one of the requirements of the Indian Air Force and the Army. The Army will procure 126 copters and the IAF 61 from HAL.
The LUHs will replace the obsolescent fleet of Chetak and Cheetah helicopters. These are based on the 1950s-designed Alouette Aérospatiale 315B Lama of France. These will be deployed for reconnaissance and surveillance roles and as a light transport helicopter. The maximum speed of the LUH is expected to be 220 kmph, with a service ceiling of 6.5 km.
The LUH is a 3-ton class new generation helicopter designed and developed by Rotary Wing Research and Design Center of HAL. It is lighter than the 5.5-tonne Dhruv, a twin-engine copter inducted into the forces.
Top News
Congress has lodged an FIR against him by for peddling a fak...
Says wants to develop friendly policing in the state
Police said Sirsa shot Moosewala at least six times and was ...
6,351 pilgrims leave for the holy shrine amid tight security