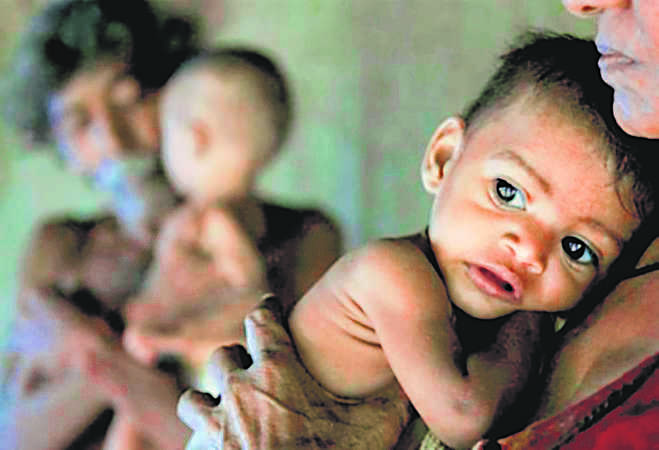 Tribune News Service
New Delhi, September 18
Malnutrition was the predominant cause of death in children younger than five years in all India states in 2017 and accounted for 68.2 per cent of all under-five deaths. A new research published in The Lancet Child and Adolescent Health today on disease burden attributable to child and maternal malnutrition in India reveals that malnutrition was also the leading risk factor for health loss for all ages.
The disease and disability burden from malnutrition was the highest in Uttar Pradesh, Bihar, Assam and Rajasthan.
The paper authored by ICMR and Public Health Foundation of India experts shows India struggling to address child malnutrition which has three major indicators — underweight children, stunted and wasted children. The prevalence of child underweight in India was 32.7 per cent in 2017; child stunting was 39.3 per cent and child-wasting (low weight for height) 15.7 per cent. This means nearly one in three children were underweight and two in five were stunted.
The prevalence of child anaemia in the country was 60 per cent in 2017 and ranged from 21 per cent in Mizoram to a high of 74 per cent in Haryana. Haryana posted the highest prevalence of child anaemia in the country, as per the Lancet paper. Overall, the annual rate of reduction in child anaemia was 1.8 per cent nationally (1990-2017) which varied from 8.3 per cent in Mizoram to nearly nil in Goa.
"If trends estimated up to 2017 for the indicators in the National Nutrition Mission 2022 continue, there would be 8.9 per cent excess prevalence for 9.6 per cent for stunting, 4.8 per cent for underweight and 11.7 pc for anaemia in children relative to 2022 targets," concludes the paper.
The authors also point out the death rate attributable to malnutrition in under-five children in India has dropped by two-thirds from 1990 to 2017 but continues to be a challenge due to very low annual drop in the prevalence of major malnutrition indicators.