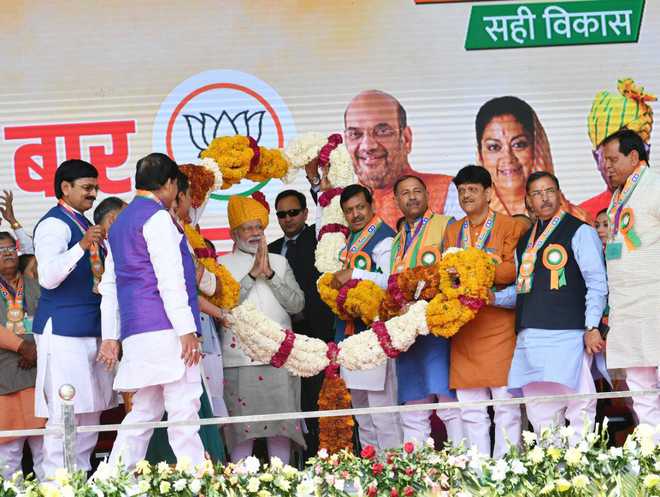 Our Correspondent
Tonk (Rajasthan), February 23
Expressing concern over assaults on Kashmiris post Pulwama, Prime Minister Narendra Modi today underlined that India's fight was against terrorism and not Kashmiris. "Everybody is tired of terrorism in Kashmir and people there want to contain terrorism forever," he told a rally of BJP workers and leaders here.
Recalling his conversation with Imran Khan after the cricketer-turned-politician became Pakistan's PM, Modi said, "I told him there have been enough fights between India and Pakistan... let us fight poverty and illiteracy. He told me, 'Modiji, I am the son of a Pathan. I speak the truth and act truly'. Let us see if he meant what he said."
Pointing out that Kashmiris had lined up to donate blood for those injured during the Amarnath yatra last year, the PM emphasised: "Our fight is against those who are against humanity."
He said two years ago, when sarpanches and panches from Kashmir requested that panchayat polls be held, "I urged them to close down schools run by terrorists because it was their children's future that was at stake. They kept their word and helped nab certain terrorists. Now there is no such school in the Valley.
"Kashmiris want freedom from terrorism and this government will fulfil their dream... I assure you your Pradhan Sevak is on the task to restore peace by uprooting terrorism forever," Modi said.
He emphasised that peace would continue to elude the world till every terror factory was shut down.
Attacking the Congress, he claimed the new Congress government in Rajasthan had failed to honour its promise to waive farm loans in 10 days.
Top News
Csaba Korosi in India on three-day visit | Pushes for reform...
A government release says there will be no official entertai...
Recalls the Mahatma's profound thoughts in a tweet
There is no report of any loss of life or damage to property
Workers and machinery have been deployed to clear the area