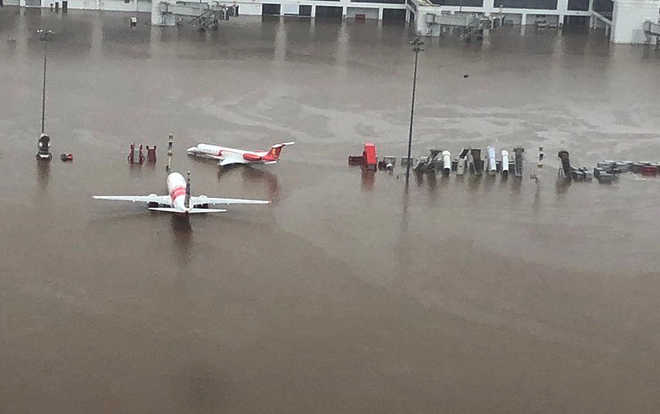 Sreevalsan TK
Low-lying areas looked like turbulent lakes, midlands housed an array of refugee camps and hilly tracts further eastward reported repeated landslides, as monsoons pounded Kerala with renewed vigour on Thursday, taking the toll to over 100.
Roads virtually turned canals, train services faced delays, the state's busiest airport has been shut down, and the only metro rail had to be suspended for a day.
The spectre of rising floods effectively eclipsed the "Great Flood of 99", which had been the biggest rain-triggered catastrophe the coastal land had suffered in recent history. That happened almost a century ago, in 1924 (in 1099 going by the Malayalam calendar), but that largely affected what now comprises the south-central half of the state. Unlike that, Kerala today has all its 14 districts under water for a week, wreaking massive havoc that has prompted the state to declare a red alert across the territory and the Centre to join rescue operations.
This time as well, south-central Kerala has been the worst-affected with state's third-longest river Pampa, which chiefly lines Pathanamthitta district, breaching banks in several stretches down the 176-km course. The central districts of Thrissur and Palakkad, too, had several of its vital rivers such as Chalakudy and Bharatapuzha overflowing, while upstate Malabar saw rainwater gushing into houses and triggering landslips in a big way. All but four of the state's 39 dams have opened shutters, while 41 of Kerala's 44 rivers are flowing above the danger mark.
Social media was flooded with posts on the deluge as people shared their experiences on Facebook with photos and videos, passed on WhatsApp messages listing helpline numbers and tweeted about the gravity of the calamity. Mischief too continued to play its role with the spread of fake news, false alarms and panic-triggering rumours.
As educational institutions closed a week before schedule for Onam vacation, refugee camps began getting crowded and more people stranded in homes. Chief Minister Pinarayi Vijayan called Prime Minister Narendra Modi yet again on Thursday, seeking additional help. The Army, Navy and Air Force are already helping the state's police, rescue operators and disaster management teams. Modi, after attending the funeral of his predecessor AB Vajpayee in Delhi, is scheduled to fly to Kerala to take stock of the situation.
The Cochin international airport, which caters to two-third of Kerala's air traffic movement, was closed on August 15. Sources said its operations are likely to remain suspended till August 26, during which the airports in Kozhikode and the capital city of Thiruvananthapuram will be the take-off and touchdown cities in the state.
Kochi metro, for the first time in its 14-month history, suspended on Wednesday its train traffic linking the city with its suburbs, but resumed operations partly after 30 hours. The weather department has predicted more rains, especially over the weekend, owing to the formation of a low-pressure trough.
25 trains cancelled till Aug 26
Cochin airport to remain shut
35 NDRF teams rushed to state
Rs 8,000 cr damages estimated by govt
1.5 lakh taking shelter in relief camps
Top News
Developed primarily for mountain warfare
Pilot seeks landing in Delhi | Refuses to land in Jaipur or ...
Rakesh Tikait attends akhand path organised by farm unions, ...
Pritpal Singh took Tinu in his private car to his official r...