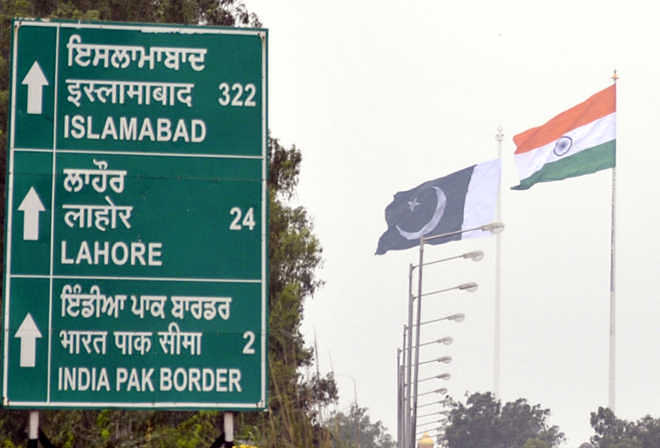 Smita Sharma
Tribune News Service
New Delhi, September 22
Amid heated exchanges between India and Pakistan, following cancellation of Foreign Minister talks by New Delhi, people to people ties seem to be once again under stress.
The Tribune has learnt that six people with the Chef's Association of Pakistan were invited to be a part of 'The World Heritage Cuisine Summit & Food Festival 2018'. Of these six, invitation letters for four chefs — Falak Gohar, Shahid Mahmood, Shumaila and Samina Ahmad — had been sent across to the Indian High Commisison as well as the respective individuals for visa applications. Two letters were pending for Ahmad Shafiq and Tipu Imran.
The global culinary event, being organised by Indian Federation of Culinary Association (IFCA), is scheduled to be held from October 12 to 14 at the Heritage Fort in Amritsar.
Speaking to The Tribune, president of IFCA chef Manjit Singh Gill said, "The invite to chefs from Pakistan to participate in the World Heritage Cuisine Summit & Food Festival in Amritsar between October 12 to 14 was withdrawn as IFCA is unable to fulfil the requirements of the Pakistan visa office."
IFCA is a nodal body of culinary professionals in India that calls itself "independent, apolitical, non religious and voluntary" and is recognised by the Ministry of Tourism. The IFCA is also a National member of the World Association of Chefs Societies (WACS), a global body of culinary professionals, and will be taking care of local hospitality for all the participants attending the event next month.
"The summit is a celebration of long-standing food traditions showcased by chefs," said the despatched invitation letters dated September 19, 2018 and signed by its president, chef Manjit Gill. The event has invited chefs from 50 countries of which confirmations are in for 48, but Pakistan seems be the only one that will be left out now in the backdrop of bilateral tensions on the rise again.
An official source confirmed to The Tribune that "India has a restrictive visa policy currently in place for Pakistan except for humanitarian cases".
Following indications from the Indian side, Manjeet Gill shot a letter via email subsequently today to the Pakistani chefs, which The Tribune has access to. In his latest communication, chef Gill writes, "I have been advised to withdraw all the invites, hence all the invites as per below names withdrawn and cancelled." The email then lists out names of all the Pakistani chefs who were earlier asked to reach Amritsar by October 11, participate in the event and take a trip of the city on October 15 prior to their departure back home.
In his response to president Gill's letter, Pakistani chef Ahmad Shafiq today wrote, "The invitations have been withdrawn under political pressure and discrimination against Pakistan."