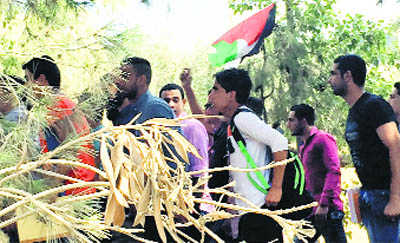 KV Prasad
Tribune News Service
East Jerusalem, October 13
India today had a glimpse of the rising anger in Palestine against its growing engagement with Israel in the backdrop of fresh cycle of violence here forcing President Pranab Mukherjee to cut short his programme on the last day as section of his motorcade got disrupted.
Nearly a thousand strong students' group at the Al Quds University led a march carrying placards and raising slogans, expressing anger over India's relations with Israel, thus, disturbing the sequence of presidential delegation motorcade.
As soon as the President came out of the auditorium where the university conferred an honorary doctorate on him, a small group of students stood close to the exit gate with a placard reading: "Dear President of India, hear our voice and listen to our message." Among the placard carried by the protesters one sought to know why India was doing business with enemies of Palestine that was "killing" its people and hurting its economy
The President had to wrap up his overnight stay and leave directly from the venue to Jerusalem to begin his tour of Israel skipping the last event of inaugurating the Jawaharlal Nehru Secondary School for Boys.
The protest also came even as the President told the gathering of India's long-standing commitment to the cause of Palestine emphasising that one of the purposes of his visit, the first-ever by the Indian head of state to Palestine, was to suggest a framework for the future encompassing closer political interaction, deeper economic engagement and academic collaboration and wider cultural contacts and people to people exchanges.
The sudden change of plans caught most of the motorcade unawares, first on account of the sudden crowd of protests and then the disruption in sequence left vehicles carrying members of the delegation, including six MPs and media at different places.
Ironically, just before being hit by the wave of protest, the President inaugurated India-Palestine Centre of Excellence in ICT in the university. Indian officials worked through the night to get 30 computers installed in time since the Israelis took time to clear the consignment, which arrived last evening.
Interestingly, after relenting and allowing the systems meant for Palestine, Israel slapped a US$15,000 demurrage on the university for delay in getting customs clearance. Meanwhile, the President arrived in Jerusalem to begin his three-day trip to Israel, which would conclude his third and leg of the three-nation tour of West Asia. In the evening, he paid homage at the Holocaust Memorial and attended a reception hosted by the Indian Embassy.